Vascular Disease of the Lower Extremities in Diabetes Mellitus: Etiology and Management
Cameron M. Akbari
Frank W. LoGerfo
Problems of the diabetic foot are the most common causes of hospitalization in patients with diabetes, with an annual health care cost of more than $1 billion (
1
). The prospect of possible amputation terrifies patients with diabetes and justifiably so: diabetes mellitus is a contributing factor in half of all lower extremity amputations in the United States, and the relative risk for leg amputation is 40 times greater among persons with diabetes than among those without diabetes (
1
,
2
). Moreover, up to 50% of diabetic amputees will undergo a second leg amputation within 5 years of the initial amputation. Foot ulceration will affect 15% of all individuals with diabetes during their lifetime, with an annual incidence of 3% in patients with diabetes, and is clearly a significant risk factor in the pathway to limb loss (
3
).
THE DIABETIC FOOT: FUNDAMENTAL CONSIDERATIONS
The principal pathogenic mechanisms in diabetic foot disease are ischemia, neuropathy, and infection; acting together they contribute to the sequence of tissue necrosis, ulceration, and gangrene. Fundamentally, limb salvage strategies are focused on a clear understanding of these abnormalities in patients with diabetes, which subsequently allows for improved prevention and treatment in this population.
PATHOPHYSIOLOGY OF VASCULAR DISEASE IN DIABETES MELLITUS
Macrovascular Abnormalities
Lower extremity arterial disease is more common among patients with diabetes than among those without diabetes. The presence of diabetes is associated with a two- to threefold excess risk of intermittent claudication compared with its absence (
28
). Despite significant advances in the prevention and treatment of peripheral vascular disease, diabetes continues to be the single strongest cardiovascular risk factor for the development of critical leg ischemia and limb loss (
29
).
Unlike microvascular disease, which is unique to diabetes and its metabolic alterations, the cause of lower extremity ischemia is similar in diabetic and nondiabetic patients and is due to accelerated atherosclerosis. One notable difference between these populations is the pattern and location of the occlusive atherosclerotic lesion. As noted earlier, there is no evidence for an occlusive lesion at the arteriolar level ("small-vessel disease") in patients with diabetes. However, patients with diabetes are more likely to have atherosclerotic disease affecting the infrapopliteal (tibial) arteries, with
sparing
of the foot arteries (
30
), which allows for successful arterial reconstruction to these distal vessels. Conversely, the superficial femoral or popliteal artery is less likely to be affected by the occlusive process, allowing these vessels to serve as a possible inflow source for bypass grafting (
Fig. 67.2
).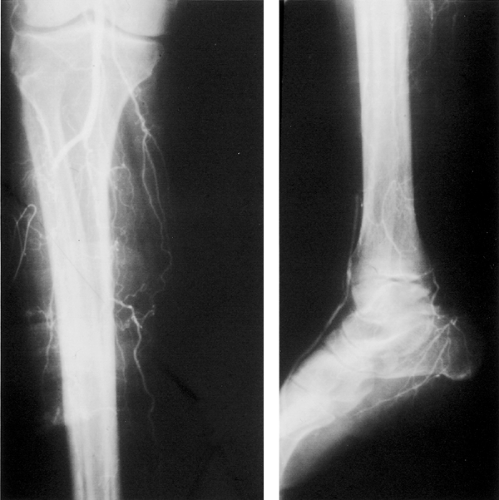 Figure 67.2.
Angiogram demonstrating the characteristic pattern of lower extremity vascular disease in diabetes, with atherosclerotic occlusion of the tibial arteries and sparing of the foot vessels. Note the normal appearance of the popliteal artery, another characteristic finding.
Because the foot vessels are often patent in the patient with diabetes and because of the success of bypass grafting to these vessels, an appropriate evaluation for ischemia is essential in patients with diabetes. The complex milieu of motor and sensory neuropathy, thickening of the capillary basement membrane, loss of the neurogenic inflammatory response, and the wide spectrum of microcirculatory and endothelial abnormalities all result in a biologically compromised foot. Unless ischemia is recognized and corrected, limb salvage efforts with the diabetic foot will fail, even if infection and neuropathy have been appropriately treated.