Effects of Diabetes Mellitus on the Digestive System
Hiroshi Mashimo
Roger J. May†
Raj K. Goyal
In 1936, Bargen (
1
) first described diarrhea and steatorrhea as complications of diabetes. It is now clear that all parts of the digestive system are affected by diabetes, and digestive system dysfunction is an important contributor to the morbidity of this disease (
2
,
3
,
4
). Digestive symptoms related to diabetes are reported to be common. Feldman and Schiller (
3
) questioned 136 unselected patients at a hospital diabetes clinic about the presence of gastrointestinal (GI) symptoms. Three fourths of all
patients had digestive symptoms. Frequent GI symptoms were constipation (60%), abdominal pain (34%), nausea and vomiting (29%), diarrhea (22%), and fecal incontinence (20%). Moreover, digestive symptoms in persons with diabetes may lead to clinically significant decreases in quality-of-life scores (
5
). A more recent U.S. national survey of upper GI symptoms, including heartburn, also showed significantly more upper GI symptoms in persons with diabetes (50% vs. 38% in controls) (
6
). However, it is unclear whether such GI symptoms are significantly different in the diabetic population than in the nondiabetic population except for decreased heartburn and increased use of laxatives (
7
). Regardless, asymptomatic abnormalities of gut function frequently occur in these patients.
PATHOGENESIS OF DIGESTIVE SYSTEM DYSFUNCTION
The digestive system dysfunction in diabetes may result from diabetes itself or, more often, from diabetes-associated complications. Diabetic neuropathy plays an important role in motor and secretory abnormalities in the GI tract, in nausea, vomiting, and the syndrome of abdominal pain. Diabetic angiopathy and vascular complications play a role in the pathogenesis of intestinal ischemia, in the severity and outcome of cholecystitis and biliary tract surgery, and in the nerve and muscle dysfunction of diabetic gastroenteropathy. Defects in immune mechanisms in diabetes are related to an increased incidence of esophageal candidiasis, and decreased resistance to infection accounts for the many pyogenic complications in the digestive tracts of these patients.
Some of the digestive system abnormalities in diabetes may not be causally related to diabetes but may reflect a common association of diabetes with these abnormalities. For example, the increased incidence of gallstones and fatty liver is due to associated obesity and hyperlipidemia in patients with type 2 diabetes, and the incidence of celiac disease is increased because of a common gene that predisposes to both conditions. Similarly, gastric parietal cell antibodies are found in human leukocyte antigen (HLA) haplotypes that are prevalent in patients with type 1 diabetes (
8
).
Hormonal Changes in Diabetes
Other hormonal changes described in patients with diabetes play important roles in the pathogenesis of many digestive disorders. For example, increased postprandial hormone release of glucagon and pancreatic peptide in patients with diabetes may exacerbate the disturbed motility in subjects with type 2 diabetes (
9
). Amylin, a peptide hormone cosecreted with insulin by the pancreatic β-cells, is deficient in patients with type 1 diabetes and elevated in patients in the early stages of type 2 diabetes. Patients in the later stages of type 2 diabetes have reduced amylin secretion that appears before reduced insulin secretion. Amylin and its analogue pramlintide delay gastric emptying (
10
). Activity of the gastric inhibitory peptide (GIP) that normally inhibits gastric emptying is almost completely lost in patients with type 2 diabetes, although glucagon-like peptide-1 (GLP-1), expressed mainly by the gut L-cells after feeding, maintains its ability to stimulate insulin secretion in these patients, even long after sulfonylurea secondary failure, and may be an important therapeutic alternative in diabetes (
11
). Ghrelin, a novel peptide hormone synthesized primarily in the stomach, has potent insulin-releasing, appetite-promoting, and gastric promotility effects. This hormone is decreased in the serum of persons with type 2 diabetes (
12
).
Enteric Neuropathy in Diabetes
The GI tract is richly innervated by nerves, which can be divided into intrinsic and extrinsic nerves (
13
). The intrinsic nerves constitute the enteric nervous system (ENS). The extrinsic nerves contain sensory (afferent) and motor (efferent) fibers and are carried along sympathetic, parasympathetic, and somatic pathways to the central nervous system (CNS) (
Fig. 64.1
). In diabetes, any
one or several of the various components of the nerve elements that control gut function may be involved. The extent of neuropathy appears related to the duration of diabetes (
14
) and the age of patients (
15
). Diabetic enteric neuropathy is responsible for many of the GI abnormalities in these patients. The wide spectrum of possible enteric neuropathies may explain the wide range of GI dysfunction in the patient with diabetes.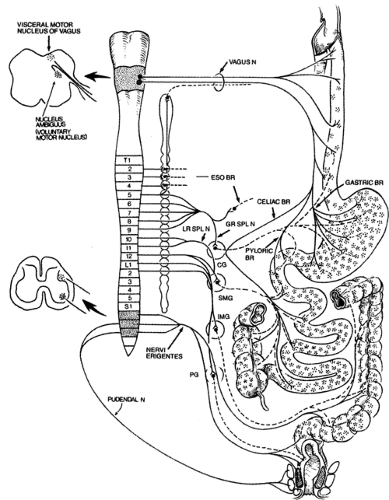 Figure 64.1.
Efferent innervation of the gastrointestinal tract. The α motor neurons innervate skeletal muscle at either end of the gut. The α motor neurons to the pharynx and upper esophagus are present in the nucleus ambiguus, and their axons are carried in the vagus nerve. The α motor neurons to the external anal sphincter are present in Onuf's nucleus, and their axons are carried in the pudendal nerve. The sympathetic pathway consists of cell bodies of preganglionic neurons located in spinal cord segments T2 through L2. The preganglionic fibers are carried in the greater splanchnic nerve (GR SPL N), lesser splanchnic nerve (LR SPL N), and smallest splanchnic nerve (not labeled) to terminate in the celiac ganglion (CC), superior mesenteric ganglion (SMG), inferior mesenteric ganglion (IMG), and pelvic ganglion (PC). The postganglionic sympathetic neurons are distributed in a segmental fashion to the gastrointestinal tract. The parasympathetic pathway consists of vagal and sacral outflows. The vagal pathway consists of preganglionic parasympathetic axons whose cell bodies are present in the dorsal motor nucleus of vagus. The vagal parasympathetic fibers supply the gastrointestinal tract up to the right half of the colon. Sacral preganglionic parasympathetic fibers arising from neurons in spinal cord segments S2 to S4 (nervi erigentes) supply the left half of the colon, including the rectum and the internal anal sphincter. The postganglionic parasympathetic nerves and fibers are present intramurally in the gut wall. Sympathetic and parasympathetic nerves make extensive contacts with neurons in the enteric nervous system. In diabetes mellitus one or more components of efferent or afferent innervation (not shown) may be involved (see text). (From Goyal RK, Crist J. Neurology of the gut. In: Sleisenger MH, Fordtran JS, eds.
Gastrointestinal disease: pathophysiology, diagnosis, management
. Philadelphia: WB Saunders, 1989:21–52, with permission.)
PARASYMPATHETIC INNERVATION
The vagal efferents provide parasympathetic innervation to the entire gut down to the right half of the transverse colon. The left half of the colon and the rectum are innervated by sacral parasympathetic efferents. Parasympathetic preganglionic efferents are thinly myelinated or unmyelinated cholinergic axons. It is now clear that there are two parallel pathway vagal fibers that terminate on excitatory and inhibitory postganglionic neurons, respectively, in the enteric plexuses. The parasympathetic influence on the gut includes precise and localized motor and secretory control activity. The vast majority (>80%) of the vagal fibers are low-threshold afferents that are involved in nonnoxious sensations and primarily mediate reflex activities, including nausea, vomiting, and satiety.
Morphologic studies of vagal abnormalities in diabetes have had variable results. Diani et al. (
16
) reported marked abnormalities in the vagus nerve in nonketonuric and ketonuric diabetic Chinese hamsters. Analysis of axons from the ventral division of the vagus nerve demonstrated that in the diabetic animals the number of nonmyelinated axons and the numerical and volume density of myelinated fibers were markedly decreased. In an autopsy study of patients with diabetes, Smith (
17
) demonstrated sparse changes in the vagus nerve. Sections obtained at both the cervical and the diaphragmatic levels of the vagus showed that a small number of fibers had undergone segmental demyelination. A larger number of fibers showed wallerian changes of degeneration. Duchen et al. (
18
) described more severe pathologic changes of the vagus nerve in an autopsy study of four patients with prolonged diabetes. Guy et al. (
19
) described pathologic changes in a segment of the abdominal vagus removed during gastric surgery from a patient with severe gastroparesis. These changes included a marked reduction in unmyelinated axons; the remaining axons were characterized by a small diameter with an associated increase in surrounding collagen. In contrast to the above findings, Yoshida et al. (
20
) found no abnormalities on morphologic analysis of sections of the abdominal vagus nerve in five patients with diabetes, two of whom had symptomatic gastroparesis.
Functional studies provide evidence of parasympathetic efferent denervation of the gut in diabetes. Patients with longstanding diabetes have been found to have an impairment of the cephalic phase of gastric acid secretion. In such patients, sham feeding or insulin-induced hypoglycemia is associated with a diminished secretory response, a finding indicative of decreased vagal influence on the stomach. Moreover, the rise in serum levels of pancreatic polypeptide with sham feeding is also impaired in patients with advanced diabetes, indicating deficient parasympathetic innervation of the pancreas (
21
).
Of note, vagal or autonomic neuropathy does not uniformly affect innervation to all visceral organs. Similarly, there is no direct correlation between the presence of peripheral neuropathy and autonomic neuropathy. Autonomic neuropathy involving the heart is not predictive of GI dysmotility or of its extent (
22
).
SYMPATHETIC INNERVATION
The preganglionic neurons of sympathetic efferents are located in the spinal cord (T5 to L3), and the corresponding postganglionic neurons are located in the various sympathetic ganglia. The sympathetic efferent fibers entering the gut are postganglion adrenergic fibers that exert most of their actions indirectly via the enteric neurons. The sympathetic efferents exert inhibitory effects on the gut except in the sphincters, which are contracted by the sympathetic nerves.
In a pathologic study of autopsy findings in diabetic patients, Duchen et al. (
18
) found several abnormalities in the pattern of sympathetic innervation. In the intermediolateral columns of the spinal cord, where the sympathetic neurons arise, cell numbers appeared reduced at several thoracic levels. In addition, in the cervical and celiac sympathetic ganglia, neurons were distended or vacuolated with enlarged club-shaped neural processes. Chang et al. (
23
) demonstrated that rats with experimentally induced diabetes have a deficiency in adrenergic-mediated absorption of fluid and electrolyte in the ileum and colon, presumably secondary to deficient sympathetic innervation.
Sympathetic afferents carry visceral nociceptive information to the CNS. They also are involved in many sympathetic reflexes, including nausea and vomiting. It is possible that sympathetic afferent stimulation in neuropathy may be involved in the syndrome of abdominal pain, nausea, and vomiting, and the loss of afferent activity may lead to impaired perception of visceral pain.
ENTERIC NERVOUS SYSTEM
The enteric plexus, which consists of the myenteric and submucous plexuses, forms the ENS, which is the "local brain" of the gut. The ENS resembles the CNS in that it contains sensory, motor, and integrating-command interneurons and program generators. Moreover, ENS neurons, like CNS neurons, employ a large variety of neurotransmitters. These include acetylcholine, neuropeptides such as cholecystokinin (CCK), galanin, calcitonin gene-related peptide (CGRP), gastrin-releasing peptide (GRP), enkephalins, somatostatin, substance P, vasoactive intestinal polypeptide (VIP), purines such as adenosine triphosphate (ATP) and adenosine, and possibly amino acids such as γ-aminobutyric acid (GABA), and nitric oxide (NO). The major inhibitory neurotransmitters are VIP and NO, and the main excitatory neurotransmitters are acetylcholine and substance P.
SOMATIC INNERVATION
Each end of the GI tube (pharynx, upper esophagus, and external anal sphincter) is composed of striated muscle fibers that are innervated by somatic nerves. Moreover, the parietal peritoneum and abdominal wall receive somatic sensory innervation. Both sensory and motor neuropathies are well-known complications of diabetes. They may cause, on one hand, abnormalities in pharyngeal swallowing and, on the other, external anal sphincter dysfunction during defecation. Sensory neuropathy and radiculopathy may also be responsible for unexplained abdominal pain in patients with diabetes.
The pathogenesis of diabetic neuropathies is not fully understood. Recent revelations of the pathogenesis of diabetic neuropathy may have great bearing on the future prevention of this complication. Biological changes leading to neuropathy that occur with hyperglycemia in patients with diabetes include increased production of advanced glycosylation end products, increased activity of the polyol pathway, disturbance in metabolism of myoinositol and its phospholipid derivatives, elevation of endothelial angiotensin and abnormal permeability of the small blood vessels, impaired neurotrophic support, and impaired resistance to oxidative stress. Currently, treatment of diabetic neuropathy consists of achievement of better glycemic control and treatment of symptoms related to neuropathy. Specific treatments capable of preventing or curing neuropathy are being studied. With the introduction of potent aldose reductase inhibitors, the role of increased activity of the polyol pathway (and related abnormalities in myoinositol metabolism) in the pathogenesis of diabetes-associated complications may be clarified. Despite interesting results obtained with aldose reductase inhibitors in animal studies, initial results in patients with diabetes are less encouraging (
36
). Other metabolic approaches, such as antioxidants and γ-linolenic acid supplementation, seem promising (
37
). Clearly, early detection of diabetic neuropathy is required, because at present a preventive approach is the most effective way to avoid or postpone debilitating complications. More research is needed to make effective curative treatments of diabetic neuropathy available.
Gut Smooth Muscle in Diabetes
In general, the intestinal smooth muscle in diabetes is normal and functionally intact. Although the primary disorder of gut motility appears to be one of hypomotility or even atony, experimental observations strongly argue that these changes are the result of deficient innervation. When cholinergic agonists are administered, contractions are of normal amplitude (
38
). In an extensive review of many sections obtained from all parts of the stomach, Yoshida et al. (
20
) demonstrated normal smooth muscle without evidence of degeneration or vacuolation. In contrast, Duchen et al. (
18
) and Guy et al. (
19
), in a small number of patients, described morphologic abnormality of intestinal smooth muscle. Both groups of investigators observed eosinophilic or hyaline-like bodies (rounded or club shaped) lying in or replacing smooth muscle cells. The extensive autopsy studies of Duchen et al. (
18
) described the presence of these smooth muscle bodies throughout the GI tract and, in addition, in the smooth muscle of the bladder. The significance of these hyaline bodies is unclear, but the preponderance of clinical data indicates that the intestinal smooth muscle is functionally healthy. Histologic changes in gastric smooth muscle were also reported in overt gastroparetic patients with longstanding type 1 diabetes, including smooth muscle degeneration and fibrosis, with eosinophilic inclusion bodies (M-bodies), which appear to be unique to this condition (
39
).
There are also electrophysiologic changes in the gut smooth muscle with diabetes. In rat models of type 2 diabetes, for example, the gastric fundus shows functional impairment of neuromuscular transmission, reduced maximum activity of the electrogenic pump, increased sensitivity of muscarinic receptors, reduced sensitivity of adrenoreceptors, and reduced myogenic activity in gastric smooth muscles. These alterations in the properties of smooth muscle may be involved in diabetes-induced gastroparesis (
40
). The colonic smooth muscle also shows changes, including a more depolarized membrane and a reduction in reactivity of adrenoreceptors to noradrenaline. However, there is also notable attenuation of nonadrenergic noncholinergic inhibitory transmission, suggesting that the constipation appearing with diabetes involves dysfunction of both the enteric autonomic nerves and the smooth muscles in the colon (
41
).
Microangiopathic Changes in Diabetes
Microangiopathic changes in the GI tract of patients with diabetes are frequently mentioned in the clinical literature. De Las Casas and Finley (
42
) reported pathologic studies documenting
these changes in duodenal biopsies from a patient with longstanding type 1 diabetes and chronic diarrhea. They described striking histopathologic findings of diabetic microangiopathy, including prominent mural thickening and luminal narrowing of blood vessels within the duodenum secondary to accumulation of hyaline material, which was periodic acid-Schiff positive and intensely stained with monoclonal antibodies to type IV collagen. Potential mechanisms for diabetes-specific microvasculature disease, including decreased vasodilators such as NO, increased vasoconstrictors such as angiotensin II and endothelin-1, and increased permeability factors such as vascular endothelial growth factor have recently been reviewed (
43
).
ABDOMINAL PAIN IN DIABETES
Both acute and chronic abdominal pain can present rather uniquely in patients with diabetes. Syndromes of acute and chronic abdominal pain can masquerade as disorders of intraabdominal or pelvic pathology and must be recognized to permit the institution of appropriate therapy.
Acute Abdominal Pain
Acute abdominal pain, tenderness, and vomiting have long been recognized as frequent in patients presenting with diabetic ketoacidosis (
44
). Unexplained abdominal pain in the setting of diabetic metabolic decompensation tends to be generalized or epigastric in location. The mechanism of acute abdominal pain is not clear. Hyperamylasemia can occur but is not correlated with the presence of pancreatitis. It has been suggested that abdominal pain and vomiting might be due to the gastric dilatation and intestinal ileus that can occur secondary to the metabolic acidosis. Theoretically, the pain could be due to a stretching of the hepatic capsule in response to hepatic steatosis; abrupt hepatic distention, however, is unlikely to be due to steatosis. Finally, acute pain may simply be due to activation of nociceptors in response to metabolic derangements.
Campbell et al. (
44
) reviewed the clinical findings and outcome in 211 episodes of metabolic decompensation in 140 patients with diabetes over an 8-year period. Forty-four patients experienced severe abdominal pain and tenderness that necessitated diagnostic evaluation. In 17 patients, the abdominal pain could be attributed to an underlying disorder (e.g., pyelonephritis or appendicitis) considered to have precipitated the metabolic decompensation. In the other 29 patients, the abdominal pain remained unexplained and was attributed to the ongoing ketoacidosis. Patients with unexplained abdominal pain were younger than 40 years of age and, with only three exceptions, had a plasma bicarbonate level of less than 10 mEq/L. The authors suggested that acute abdominal pain in patients with diabetes older than 40 years of age or with plasma bicarbonate levels greater than 10 mEq/L should not be attributed to the metabolic decompensation and that a search should be undertaken for an underlying abdominal or pelvic disorder. In all patients, GI, renal, and pelvic diseases should be excluded, especially in those with fever, localized abdominal pain or tenderness, or abnormal laboratory findings. The acute abdominal pain associated with diabetic ketoacidosis resolves with correction of the metabolic abnormalities. It is important to recognize this entity to avoid unnecessary and harmful exploration laparotomy in these patients.
Chronic Abdominal Pain
Chronic abdominal pain can occur as a result of diabetic sensory neuropathy and can masquerade as serious intraabdominal pathology, especially when it is associated with weight loss. Thoracic polyradiculopathy is an important cause of chronic pain in patients with diabetes. Longstreth (
45
) described the syndrome of chronic abdominal pain and weight loss caused by thoracic radiculopathy in 10 middle-aged or elderly patients with type 2 diabetes. Some of these patients initially underwent investigations focused on possible malignancy. Some had even undergone laparotomy in a search for possible carcinoma of the pancreas. In the affected patients, the pain tended to be asymmetric rather than bilateral and most often affected the left upper abdomen and often radiated into or from the lower thoracic spine. At times both the upper abdomen and the lower chest were involved in the pattern of symptoms. The pain was described as a pressure discomfort or sharp pain and at times had neuropathic qualities such as "burning" or "stabbing." The pain was often worse at night and aggravated by light pressure. The onset of the pain was gradual, being at first intermittent, later more frequent, and finally constant. It is especially noteworthy that the pain was not brought on or affected by either eating or defecation, a possible clue that the pain did not originate from the GI tract. Marked weight loss—up to 19 kg—occurred in some of the patients and presumably was caused by pain-induced anorexia. The diagnosis of thoracic radiculopathy secondary to diabetes was confirmed by electromyographic demonstration of either unilateral or bilateral denervation of the paraspinal muscles in the middle thoracic to upper lumbar region in seven of the patients. Nine patients recovered spontaneously, but two had recurrent polyradiculopathy. A combination of nonsteroidal antiinflammatory drugs and tricyclic antidepressants has been used in other syndromes of radiculopathy and/or peripheral neuropathy and is worth a trial in this syndrome.
PHARYNX AND ESOPHAGUS IN DIABETES
Pharyngeal and esophageal motor abnormalities are frequently found in persons with diabetes and are more prevalent in patients with peripheral or autonomic neuropathy. However, these motor abnormalities rarely produce significant symptoms. Thus, dysphagia and chest pain should be thoroughly evaluated and not ascribed to the diabetes. The incidence of reflux esophagitis and candida esophagitis may be increased in patients with diabetes.
STOMACH IN DIABETES
Gastric Motor Activity
The stomach normally performs four distinct functional motor activities. It (a) acts as a reservoir to accommodate the volume of solids and liquids of a meal; (b) pulverizes solids and mixes them with gastric acid to reduce the particle size for optimal digestion; (c) empties liquids and pulverized solids into the duodenum during the postprandial digestive period; and (d) empties the remaining food residues, including indigestible material, during the interdigestive period. These actions are achieved in different functional compartments of the stomach, i.e., the proximal stomach, the distal stomach, and the pyloric sphincter region (
Fig. 64.2
). In diabetes, all of these functions may be impaired (
Table 64.1
).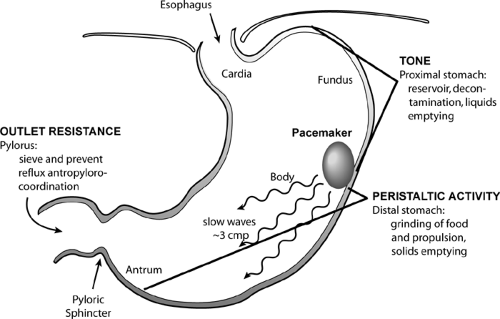 Figure 64.2.
Functional integration of different parts of the stomach. The proximal stomach serves as a reservoir that actively accommodates increasing volumes of food during a meal. Its tone creates a pressure gradient to the pylorus, which largely influences the emptying of liquids from the stomach. The more distal regions of the gut actively grind the food into smaller sizes until it can pass through the sieve created by the pylorus. The timing and placement of the contraction waves are determined by "pacemaker" cells scattered in the body of the stomach, which create a rhythmic wave of electrical activity (slow waves) that marches distally to the pylorus at three cycles per minute. (Adapted from Koch KL. Diabetic gastropathy: gastric neuromuscular dysfunction in diabetes mellitus: a review of symptoms, pathophysiology, and treatment [Review].
Dig Dis Sci
1999;44:1061–1075.)
TABLE 64.1. Gastric Motor Abnormalities in Diabetes Mellitus
Gastric contractions


Reduced amplitude of fundic contractions

Reduced amplitude of antral contractions

Reduced frequency of antral contractions

Absence of antral interdigestive migrating motor complex (IMMC)

Periods of sustained high-frequency, nonpropagated contractions

Pylorospasm
Electrogastrographic findings


Tachygastria

Bradygastria

Flat pattern

Absence of postprandial increase in strength of slow waves
Delay in gastric emptying


Liquids: variable

Digestible solids: frequent

Indigestible solids: very frequent
PROXIMAL STOMACH
The proximal stomach consists of the fundus and the orad third of the gastric body. The proximal stomach exhibits tonic contractions, producing prolonged elevations in pressure lasting 1 to 6 minutes. These contractions press gastric contents aborally toward the distal stomach and the duodenum and play an important role in gastric emptying. They are stimulated by excitatory fibers in the vagus and by hormones such as motilin. Normally, the proximal stomach relaxes with each swallow ("receptive relaxation") and also as the volume of swallowed food builds up ("accommodation"). With receptive relaxation and accommodation, the stomach can hold increasing volumes without increasing gastric pressure, which enhances its function as a reservoir. Receptive relaxation is mediated by inhibitory fibers in the vagus nerve, whereas accommodation is mediated by inhibitory neurohormonal influences. The resting tone of the fundus in patients with diabetes is comparable to that in healthy subjects, but fundic contractions, as measured by a motility index, are reduced in patients with diabetes (
64
). The status of the receptive relaxation or accommodation in patients with diabetes is poorly characterized, but these inhibitory responses are thought to be impaired owing to the loss of inhibitory nerves in patients with diabetes.
PYLORUS
The gastric pylorus is a narrow channel that can actively change the size of its opening under the influence of excitatory and inhibitory nerves. The pylorus is not a usual sphincter, because under basal conditions its resting pressure is not elevated (
65
). The opening size of the pylorus determines not only the rate of gastric emptying but also the size of the food particles that are permitted to leave the stomach. Soon after a meal, as the peristaltic waves in the stomach and antrum carry pieces of food toward it, the pylorus opens partially so that only liquids or small particles pass through, and solid chunks of food are trapped in the antrum to be ground by powerful antral contractions. If the pylorus does not open or relax, gastric emptying of liquids, as well as of ground and unground solids, is inhibited and gastric stasis occurs. It has been reported that luminal contents in the small bowel may inhibit gastric emptying by enhancing pyloric closure via neurohormonal reflexes (
65
). Wider opening of the pylorus is also essential for movement of large pieces of food during the IMMC.
Careful manometric studies have shown that patients with diabetes have increased fasting and postprandial pyloric motor activity. In addition, these patients demonstrate episodes of "pylorospasm" characterized by prolonged periods of increased tonic and phasic motor activity in this region (
87
). It has been suggested that pyloric motor activity and pylorospasm could act as a "brake" on gastric emptying and hence could contribute to the morbidity and disability of gastroparesis. The increased pyloric motor activity might be due to an increase in cholinergic or noncholinergic excitatory nerve activity or to a decrease in adrenergic or nonadrenergic (VIPergic and nitrergic) activity with resultant decreased pyloric inhibition.
DUODENUM
Normally, duodenal activity is coordinated with antral and pyloric activity. During the period of enhanced gastric emptying, the duodenal and pyloric activities are inhibited with each antral peristalsis. The inhibition is followed by contractions that form a peristaltic sequence with antral contractions. Such a duodenal inhibition can be called receptive relaxation of the duodenum and is due to inhibitory neural influences. Impairment of this duodenal relaxation results in antroduodenal incoordination, and this acts to inhibit gastric emptying. However, the importance of antroduodenal incoordination in diabetic gastroparesis is unclear. Duodenal mucosal afferent nerves also play an important role in reflex modulation of gastric emptying of liquids based on the composition of a liquid meal emptied from the stomach (
65
). Liquid meals of high caloric densities, high fat content, high osmolality, and acid pH stimulate duodenal receptors to inhibit gastric emptying. No information is available on duodenogastric reflexes in diabetic gastroparesis.
Gastric Emptying
The motor activities of various parts of the stomach are well designed to regulate the emptying of different physical constituents of food, so that the liquid and digestible solid components are emptied in the digestive period (within 2 to 3 hours after ingestion) and indigestible solids are emptied from the stomach during the interdigestive period (2 to 3 hours after a meal). In diabetic gastroparesis, gastric emptying of all these components is affected to varying degrees, depending upon the stage of the disease and the underlying pathophysiologic defects.
Figure 64.6
shows patterns of gastric emptying of liquids and solids in one patient with diabetic gastroparesis and in a normal control.

Figure. 64.6.
Gastric emptying of solids and liquids in one control subject
(A)
and a diabetic patient with autonomic neuropathy
(B).
Note that emptying of solids is slower than that of liquids and both solid and liquid emptying are slower in the diabetic patient. (From Horowitz M, Harding PE, Chatterton BE, et al. Acute and chronic effects of domperidone on gastric emptying in diabetic autonomic neuropathy.
Dig Dis Sci
1985;30:1–9, with permission.)
EMPTYING OF LIQUIDS
Gastric emptying of liquids is normally influenced by the composition of the liquid meal, whose characteristics—e.g., acidity, caloric and nutritional content, and osmolality—elicit different responses from duodenal receptors and, in turn, from reflexes responsible for emptying (
65
). Hence, the liquid emptying varies in different studies because of the use of meals ranging from simple solutions (water, 10% dextrose, and orange juice) to complex nutritional solutions that truly justify the term "liquid meal." However, even with a standardized meal, gastric emptying of liquids in patients with diabetes is variable. Keshavarzian and Iber (
88
) demonstrated rapid emptying of liquids in patients with diabetes and suggested that it was due to diminished receptive relaxation in the diabetic stomach. In contrast, Loo et al. (
89
) and Wright et al. (
90
) demonstrated normal emptying of liquids in patients with diabetes. Others have demonstrated delayed emptying of liquids in patients with diabetes (
91
,
92
,
93
). The delayed emptying of liquids may be due to reduced fundic motor activity and antral motility. Another factor that could affect liquid gastric emptying is hyperglycemia. Induced hyperglycemia in normal subjects is associated with a slowing of the gastric emptying of liquid meals containing fat and protein; hyperglycemia may cause a reflex decrease in vagal excitatory tone of the stomach with a resulting delay in gastric emptying (
94
). There was no correlation between the degree of delay of emptying of liquids and the delay in emptying of solids (
91
).
EMPTYING OF DIGESTIBLE SOLIDS
Normally, in the postprandial period, digestible solids are emptied more slowly than liquids because solids must be pulverized to a size (<2 mm) sufficient to pass through the sieve created by the contracted pyloric sphincter. In patients with diabetes, the gastric emptying of solids is frequently delayed. Horowitz et al. (
47
) studied gastric emptying among unselected patients with diabetes. Emptying of solids was delayed among 58% of patients with type 1 diabetes (
61
) and 30% of patients with type 2 diabetes.
EMPTYING OF INDIGESTIBLE SOLIDS
Diabetic Gastropathy
Diabetic gastropathy is defined as a symptom complex with functional, contractile, electrical, and sensory dysfunction of the stomach associated with diabetes. In its classical form, called diabetic gastroparesis, it is associated with delayed gastric emptying. However, many patients with dyspeptic symptoms have normal or even enhanced gastric emptying. Thus even the definition of what constitutes a clinically relevant abnormality of gastric motility remains unclear.
Premium Wordpress Themes by UFO Themes
WordPress theme by UFO themes