Pathogenesis of Diabetic Nephropathy
Gabriella Gruden
GianCarlo Viberti
THE INSULTS: HYPERGLYCEMIA, HYPERTENSION, AND PROTEINURIA
Diabetic nephropathy is characterized histologically by thickening of the glomerular basement membrane, increased fractional mesangial volume, and podocyte abnormalities. Expansion of the glomerular mesangium, which occurs at the expense of the glomerular capillary lumen and filtration surface area, correlates most closely with the decline in renal function and the development of proteinuria (
25
,
26
).
Ex vivo
studies have shown that the mesangial expansion is due to both increased production and reduced degradation of extracellular matrix proteins such as type IV and I collagen, laminin, and fibronectin (
27
).
Although the glomerulus, particularly the mesangium, has been the major focus of interest, tubulointerstitial injury is also a feature of diabetic nephropathy and a predictor of renal dysfunction. Pathologic changes that have been described in association with diabetic nephropathy include thickening of the tubular basement membrane, tubular atrophy, interstitial fibrosis, and arteriosclerosis. Interstitial expansion correlates closely with renal dysfunction, albuminuria, and mesangial expansion. Moreover, the impact of interstitial expansion on renal dysfunction is additive to that of mesangial expansion, suggesting an independent effect (
28
).
If diabetes-induced abnormalities were sufficient to cause renal disease, all diabetic patients, given time, would develop overt renal disease, and the study of hyperglycemia-induced abnormalities would be sufficient to explain the pathogenesis of these functional or structural abnormalities. But this is not the case. To gain insights into the pathogenic mechanisms of diabetic kidney disease, it is therefore necessary to take into account other insults that either influence the host response to diabetes-induced environmental disturbances, thus conferring susceptibility, or accelerate the progression of kidney damage.
Hyperglycemia
There is no doubt that poor glycemic control is associated with diabetic nephropathy. Levels of hemoglobin A
1c
(HbA
1c
) are higher in patients with microalbuminuria and macroalbuminuria than in those with normoalbuminuria (
29
), and in two longitudinal studies, the glycemic control predicted the future development of microalbuminuria in normotensive type 1 diabetic patients with normoalbuminuria (
6
,
30
).
Intervention studies have demonstrated the renoprotective effect of optimal glycemic control in both human and experimental diabetes. In animals, structural glomerular changes and albuminuria can be prevented by the maintenance of normoglycemia by either islet cell transplantation or intensive insulin therapy or can be reversed by transplantation of an affected kidney into a nondiabetic animal (
31
,
32
,
33
). In humans, the Diabetes Control and Complications Trial (DCCT), a prospective multicenter randomized clinical trial comparing the effect of intensive and conventional insulin therapy on the risk of development and progression of diabetic chronic complications in 1,441 patients with type 1 diabetes, has demonstrated that a sustained improvement in HbA
1c
reduces the risk of development of diabetic nephropathy (
34
). Similarly, the United Kingdom Prospective Diabetes Study (UKPDS) has shown that improved glycemic control is effective in the prevention of microalbuminuria in patients with newly diagnosed type 2 diabetes (
35
). Finally, in a small study of eight patients with type 1 diabetes, pancreatic transplantation and near normoglycemia for 10 years reversed structural abnormalities in the kidney (
36
).
There is strong evidence that hyperglycemia is necessary in the pathogenesis of diabetic nephropathy, and some of the mechanisms that link hyperglycemia to the functional and structural abnormalities of diabetic kidney disease have been elucidated.
Extracellularly, glucose reacts nonenzymatically with primary amines of proteins, forming glycated compounds. Glucose can also be transported into cells mainly by glucose transporters and can be metabolized to sorbitol via the polyol pathway and to glucosamine in the hexosamine biosynthetic pathway. These biochemical pathways have been implicated in hyperglycemia-induced kidney damage. Furthermore, it has become increasingly clear that excess glucose can exert toxic effects directly by altering intracellular signaling pathways; currently, this is believed to be a major mechanism by which hyperglycemia results in kidney damage.
NONENZYMATIC GLYCOSYLATION
THE POLYOL PATHWAY
In the polyol pathway, glucose is reduced to sorbitol by the enzyme aldose reductase. In many tissues, the physiologic significance of aldose reductase is difficult to define, but in the renal medullary cells, the primary role of aldose reductase seems to be the formation of sorbitol, an organic osmolyte, in response to the high salinity in the medullary interstitium. It has been argued that, in tissues in which glucose entry into cells is insulin independent, more glucose becomes available for reduction by aldose reductase, resulting in an increased concentration of sorbitol and/or a reduced intracellular concentration of myoinositol. These changes might contribute to diabetic complications via an upset of cellular osmoregulation (
47
,
48
). Enhanced activity of the polyol pathway has been demonstrated in diabetic glomeruli in humans (
49
). However, the initial hypothesis that accumulation of sorbitol and reduction of myoinositol cause tissue damage is unlikely to operate in the kidney because compensatory mechanisms prevent the depletion of inositol in kidney cells (
50
).
More recently, enhanced AGE production and oxidative stress have been proposed as alternative mechanisms linking the polyol pathway to kidney injury in diabetes. In the polyol pathway, excess sorbitol is oxidized to fructose by the enzyme fructose dehydrogenase. The increased ratio of NADH/NAD (reduced form of nicotinamide adenine dinucleotide/oxidized form of nicotinamide adenine dinucleotide) coupled to the oxidation of sorbitol to fructose can result in cellular oxidative stress. Furthermore, fructose is a reactive sugar that can lead to AGE production (
51
,
52
). Recent experiments in cultured bovine aortic endothelial cells have demonstrated that high glucose concentrations increase the production of reactive oxygen species. Further, blockade of the electron transport chain complex II normalizes mitochondrial reactive oxygen species and prevents glucose-induced activation of protein kinase C (PKC), formation of AGEs, accumulation of sorbitol, and activation of the transcription factor nuclear factor-κB (NF-κB) (
53
).
Various pathophysiologic mechanisms linking activation of the polyol pathway to kidney damage can be postulated. However, to prove that activation of the polyol pathway is not merely an epiphenomenon but a mechanism of renal injury, it is important to have
in vivo
evidence that inhibition of the polyol pathway is beneficial in diabetic nephropathy. To gain this evidence, a series of studies of aldose reductase inhibitors (ARIs) have been carried out in both experimental and human diabetes. Early studies using the ARIs were inconclusive because of dubious compound specificity and drug toxicity. More recently, treatment of diabetic rats for 6 months with the ARI tolrestat resulted in a slight reduction in albumin excretion rate (
54
), but to date no convincing effect of aldose reductase inhibitors has been reported in controlled studies in humans. This indicates that activation of the polyol pathway is more likely to be an epiphenomenon and that other, more central mechanisms are operating in the pathogenesis of diabetic nephropathy.
HEXOSAMINE BIOSYNTHETIC PATHWAY
Approximately 5% of the glucose entering the cell is metabolized via the hexosamine biosynthetic pathway (HBSP), which converts glucose-6-phosphate into hexosamine-6-phosphate. Glutamine:fructose-6-phosphate aminotransferase (GFAT) is the first and the rate-limiting enzyme of this pathway. In both mesangial cells and NIH-3T3 fibroblasts, GFAT overexpression, which increases the flux through the HBSP, leads to enhanced expression of TGF-β and fibronectin (
55
,
56
). Furthermore, high glucose-induced production of TGF-β1 and matrix appears, at least in part, to be mediated by the HBSP because such production is significantly reduced by the GFAT inhibitor azaserine (
57
). A very low level of expression of GFAT usually is found in glomerular cells, but such expression is significantly enhanced in the glomerular cells of patients with diabetic nephropathy (
58
), suggesting a potential
in vivo
relevance of the
in vitro
findings. Both high glucose and angiotensin II activate the GFAT promoter in mesangial cells (
59
), and this provides a potential molecular mechanism of GFAT overexpression in the diabetic glomeruli.
GLUCOTOXICITY
Consistent with the finding in clinical studies that hyperglycemia per se plays a key role in the development of diabetic kidney disease, studies on both kidney cells and isolated glomeruli have confirmed that high glucose concentrations directly alter extracellular matrix deposition.
In mesangial cells, high glucose concentrations induce cell hypertrophy and increase gene expression and protein secretion of extracellular matrix components, such as collagen, laminin, and fibronectin (
60
). Similarly, levels of type IV and I collagen messenger RNA (mRNA) are enhanced in tubular epithelial cells exposed to high glucose concentrations (
28
). An additional mechanism whereby high glucose leads to exaggerated matrix deposition is by reducing the activity of metalloproteases, enzymes responsible for extracellular-matrix degradation (
61
).
Renal cells, similar to cells at other sites of diabetic complications, do not have an absolute requirement of insulin for glucose uptake, so that the intracellular levels of glucose more directly reflect its plasma concentration. The importance of excess glucose entry into mesangial cells is underscored by the observation that glucose-induced effects can be mimicked in normal glucose concentrations by overexpression of the cellular glucose transporter GLUT 1, thus increasing basal glucose uptake (
62
). This finding also indicates that factors regulating expression of glucose transporter and/or activity can influence glucose uptake and thus glucotoxicity. High glucose concentrations would be expected to reduce glucose transporter expression/activity in order to protect cells from excess glucose entry. However,
in vitro
studies of cultured mesangial cells suggest that exposure to elevated glucose concentrations actually enhances GLUT 1 expression by mesangial cells, triggering a positive feedback mechanism that may result in progressive damage (
63
). Inhibition of GLUT 1 overexpression prevents overproduction of extracellular matrix molecules in mesangial cells exposed to high glucose (
64
), providing evidence of a key role of GLUT1 in glucotoxicity (
64
)
The cellular and intracellular mechanisms whereby high glucose can lead to matrix deposition have been extensively studied since the 1980s, and will be reviewed in depth below.
Hypertension
Although increased glomerular capillary pressure has long been associated with the deposition of extracellular matrix, the mechanisms by which the mechanical insult of altered hemodynamics translates into kidney damage have only recently been elucidated. This has followed the demonstration of the unique elastic properties of the glomerular structure and the response of mesangial cells to mechanical stretch in culture.
Proteinuria
In diabetic nephropathy and other progressive glomerulopathies, proteinuria is a strong and independent predictor of decline in renal function (
81
). Excessive protein overload appears to induce tubulointerstitial damage and hence to contribute to the disease progression (
82
). Specifically, the excessive tubular reabsorption of proteins and the consequent accumulation of proteins in tubular epithelial cells induce the release of vasoactive and inflammatory cytokines, such as endothelin-1, osteopontin, and monocyte chemoattractant protein-1 (MCP-1). These factors in turn lead to overexpression of proinflammatory and fibrotic cytokines and infiltration of mononuclear cells, causing injury of the tubulointerstitium and, ultimately, renal scarring and insufficiency (
28
,
81
,
83
). A vicious cycle is then established in which changes in renal hemodynamics, either primary or in response to nephron loss, induce further proteinuria, perpetuating a mechanism of interstitial scarring and loss of more nephrons. The tubular toxicity of protein raises the possibility that the beneficial effects of ACE inhibitors in diabetic renal disease may reflect their potent antiproteinuric action in addition to the reduction of angiotensin II-mediated effects on growth-factor activation and glomerular hemodynamics (
28
,
81
). Limiting protein excretion and the consequent activation of tubular epithelial cell prosclerotic signals thus appears instrumental in protecting the kidney from further damage (
Fig. 51.1
).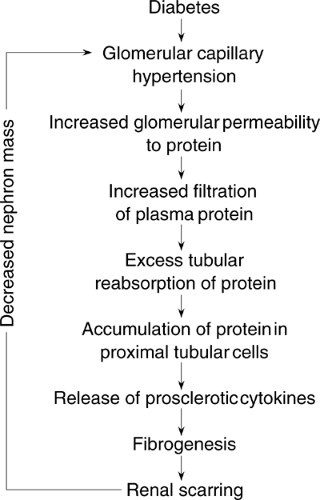 Figure 51.1.
Potential mechanisms of proteinuria-induced renal damage. (Modified from Remuzzi G, Bertani T. Pathophysiology of progressive nephropathies.
N Engl J Med
1998;12:1448–1456.)
MOLECULAR MEDIATORS
To enhance understanding of the pathogenesis of diabetic nephropathy, a number of studies have examined the cellular and molecular mechanisms of kidney damage. These studies have established the critical concept that the insults of hyperglycemia, high blood pressure, and protein overload converge at the cellular level by using similar molecular signaling pathways and influencing the expression of common cytokines (
Fig. 51.2
).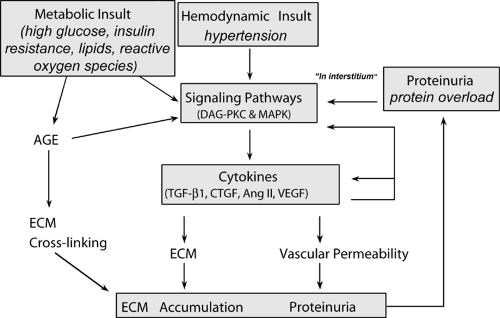 Figure 51.2.
Schematic representation of the interaction, at the cellular and intracellular levels, of three insults operating in diabetic nephropathy. AGE, advanced glycation end-product; ECM, extracellular matrix; TGF-β1, transforming growth factor-1β; Ang II, angiotensin II; CTGF, connective tissue growth factor; VEGF, vascular endothelial growth factor; MAPK, mitogen-activated protein kinases; PKC, protein kinase C; DAG, diacylglycerol.
Transforming Growth Factor-β1
TGF-β is a ubiquitous cytokine that regulates a variety of cellular processes. It exists in three isoforms—TGF-β1, TGF-β2, and TGF-β3—of which TGF-β1 is the best characterized and most highly expressed in the kidney. Glomerular and proximal tubule cells produce TGF-β1 and express both type I and type II TGF-β receptors, which bind to all TGF-β isoforms (
84
,
85
).
TGF-β1 has important prosclerotic properties and is a potent inducer of cell hypertrophy and apoptosis.
In vitro
, both glomerular mesangial cells and tubular epithelial cells increase their synthesis of collagen, fibronectin, and laminin in response to TGF-β1. Furthermore, TGF-β1 inhibits the synthesis of collagenases and stimulates production of metalloprotease inhibitors. This results in reduced degradation of extracellular matrix and further contributes to accumulation of matrix (
85
). Finally,
in vivo
, TGF-β1 induces glomerulosclerosis and proteinuria in healthy animals (
86
,
87
,
88
).
Numerous studies have explored the role of TGF-β1 in diabetic glomerulosclerosis, and at present there is overwhelming evidence implicating overexpression of TGF-β1 in the pathogenesis of diabetic nephropathy. In both human and experimental diabetes, TGF-β1 gene expression and protein secretion are increased in the glomeruli and tubules (
89
,
90
). This effect is sustained in time and closely correlates with the degree of mesangial matrix expansion and with HbA
1c
levels. The TGF-β type II receptor is also overexpressed in diabetic animals (
91
), suggesting that the diabetic kidney is hyperresponsive to TGF-β. Finally, and of the greatest importance, in diabetic mice TGF-β blockade significantly reduces overexpression of both type IV collagen and fibronectin and prevents glomerular hypertrophy, glomerulosclerosis, and renal insufficiency (
92
,
93
).
The importance of TGF-β1 is further highlighted by
in vivo
and
in vitro
studies showing that the three key insults implicated in the pathogenesis of diabetic nephropathy promote the expression of this cytokine. These studies also suggest that TGF-β1 may have a role in the interaction between metabolic and hemodynamic factors in mediating accumulation of extracellular matrix in the diabetic kidney.
High glucose concentrations induce the expression of TGF- β1 in both mesangial and tubular epithelial cells. Further, inhibition of TGF-β1 prevents glucose-induced hypertrophy of mesangial cells and production of extracellular matrix, indicating that these effects are mediated by TGF-β1 via an autocrine mechanism (
94
). Exposure of mesangial cells to high glucose concentrations induces overexpression of TGF-β receptors, suggesting that high glucose concentrations may also enhance the response to TGF-β1 (
95
). On the other hand, TGF-β1 induces the GLUT1 transporter in mesangial cells and can thereby enhance glucotoxicity (
96
).
In vitro
, AGEs induce TGF-β1 gene expression and protein secretion by mesangial cells (
44
), and
in vivo
administration of AGEs upregulates TGF-β1 in the kidney (
97
).
The link between hyperglycemia, TGF-β1, and kidney sclerosis is thus well established.
Recent studies in glomerular epithelial cells have shown that high glucose induces the TGF-β type II receptor without affecting TGF-β1 production. TGF-β mediates high glucose-induced production of fibronectin and collagen type IV (α3 chain) by glomerular epithelial cells, suggesting a role of TGF-β1 in the thickening of the glomerular basement membrane (
98
,
99
).