Secondary Forms of Diabetes
The term
secondary diabetes
generally refers to diabetes or glucose intolerance that develops in association with disorders (or factors) other than those currently defined as type 1 or type 2 diabetes mellitus or gestational diabetes mellitus. According to the classification system developed by the Expert Committee on the Diagnosis and Classification of Diabetes Mellitus (
1
), the subclass "secondary diabetes" contains a variety of types of diabetes, in some of which the etiologic relationship is known (e.g., diabetes secondary to pancreatic disease, endocrine disease, or administration of certain drugs). In others, an etiologic relationship is suspected because of a higher frequency of association of diabetes with a syndrome or condition (e.g., a number of genetic syndromes). The extent of glucose intolerance in patients with secondary forms of diabetes varies widely, presenting as insulin-requiring or non-insulin-requiring overt diabetes, simulating type 1 (insulin-dependent diabetes mellitus) or type 2 diabetes (non-insulin-dependent diabetes mellitus) or as milder forms such as impaired fasting glucose (IFG), impaired glucose tolerance (IGT), or minimally abnormal glucose tolerance, considered nondiagnostic. Another complexity in the evolution of secondary diabetes is that an underlying coexisting predisposition to primary diabetes might be unmasked, a not uncommon occurrence, considering the prevalence of diabetes and the presumed genetic underpinnings of diabetes in the population.
Table 27.1
presents a classification of various forms of secondary diabetes. When diabetes is secondary to pancreatic disorders, particularly when β-cell mass is greatly reduced, e.g., by malignancy or pancreatectomy, or when diabetes is due to chemical agents toxic to the β-cell, e.g., pentamidine or pyriminil (Vacor), overt diabetes with or without ketoacidosis often will result, depending on the extent of β-cell loss. On the other hand, when diabetes is secondary to endocrinopathies leading to counterregulatory hormone production (e.g., acromegaly, Cushing syndrome, hyperthyroidism), overt diabetes, or ketoacidosis are unusual, thanks to the capacity of the β-cell reserve (
2
,
3
). Thus, the net metabolic outcome in patients with secondary diabetes depends on the direct or indirect impact of the underlying disorders on (a) insulin secretion, i.e., inhibition or compensatory hyperinsulinemia; (b) insulin sensitivity, i.e., glucose utilization; and (c) hepatic glucose output.
TABLE 27.1. A Classification of Secondary Forms of Diabetes or Impaired Glucose Tolerance
A. Pancreatic disorders



Pancreatectomy

Pancreatitis

Cystic fibrosis

Pancreatic cancer

Hemochromatosis
B. Endocrinopathies



Disorders of growth hormone secretion




Acromegaly

Growth hormone deficiency states



Hyperprolactinemic states

Glucocorticoid excess (Cushing syndrome)

Catecholamine excess (pheochromocytoma)

Primary hyperaldosteronism

Hyperthyroidism

Disorders of calcium and phosphorus metabolism

Tumors of endocrine pancreas or gut (see Chapter 70)




Glucagonoma

Somatostatinoma

Pancreatic cholera syndrome

Carcinoid syndrome

Multiple endocrine neoplasia (MEN) syndromes



Polyglandular deficiency syndromes (see Chapter 69)

Polyneuropathy, organomegaly, endocrinopathy, monoclonal gammopathy, skin changes (POEMS) syndrome
C. Drugs, chemical agents, and toxins



Diuretics and antihypertensive agents: Thiazides; chlorthalidone; loop diuretics (furosemide, ethacrynic acid, metolazone); diazoxide; clonidine; β-adrenergic antagonists

Hormones: Glucocorticoids, adrenocorticotropic hormone, α-adrenergic agonists, growth hormone, glucagon, oral contraceptives, progestational agents

Psychoactive agents: Lithium, opiates, ethanol, phenothiazines, atypical antipsychotics

Anticonvulsants: Diphenylhydantoins (Dilantin)

Antineoplastic agents: Streptozotocin, L-asparaginase, mithramycin

Antiprotozoal agents: Pentamidine

Rodenticides: Pyriminil (Vacor)

Miscellaneous: Nicotinic acid, immunosuppressants, N-nitrosamines, theophylline, protease inhibitors
D. Genetic syndromes



Pancreatic deficiencies




Congenital absence of pancreatic islets

Cystic fibrosis

Hereditary relapsing pancreatitis



Inborn errors of metabolism




Glycogen storage disease

Acute intermittent porphyria



Severe to extreme insulin resistance syndromes (see Chapter 28




Type A syndrome: Classic and variants

Type B syndrome: Associated with autoantibodies to insulin receptor

Leprechaunism

Lipodystrophic syndromes

Rabson-Mendenhall syndrome (precocious puberty, dental dysplasia, dystrophic nails)

Ataxia-telangiectasia

Alstrom syndrome (obesity, retinitis pigmentosa, deafness)

Myotonic dystrophy



Obesity-associated insulin resistance




Laurence-Moon-Biedl syndrome

Bardet-Biedl syndrome

Prader-Willi syndrome

Achondroplasia



Progeroid syndromes




Werner syndrome

Cockayne syndrome (microcephaly, dwarfism, deafness, nephropathy)



Chromosomal defects




Down syndrome (trisomy 21)

Klinefelter syndrome (47, XXY)

Turner syndrome (45, XO)



Hereditary neuromuscular disorders




Muscular dystrophy

Huntington chorea

Friedreich ataxia (spinocerebellar ataxia)

Machado disease (ataxia, dysarthria, nystagmus)

Herrmann syndrome (photomyoclonus, dementia, deafness, nephropathy)

Stiff-man syndrome

DIDMOAD syndrome (diabetes insipidus, diabetes mellitus, optic atrophy, deafness), or Wolfram syndrome, and variants

Mitochondrial DNA disorders (maternally inherited diabetes and deafness, MIDD)
HEMOCHROMATOSIS
Prevalence and Clinical Features
Diabetes in Hemochromatosis
Management and Prognosis
Regular phlebotomy treatment, often lifelong, remains the treatment of choice for hemochromatosis. Successful iron depletion, initiated early in the course of disease, clearly reduces the incidence and progression of cirrhosis, improves diabetes control, and frequently reduces damage to other target organs and overall morbidity and mortality (
41
,
47
). In a large prospective study of 163 patients, with a mean follow-up period of 10.5 ± 5.6 years, the major determinants of reduced survival included the presence of cirrhosis, diabetes, and failure of iron depletion (
47
) (
Fig. 27.3
). Mortality ratios (observed/expected) for liver cancer, cardiomyopathy, cirrhosis, and diabetes were 219, 306, 13, and 7, respectively, for patients with hematochromatosis as compared with those for the general population in this study. Successful iron depletion, however, did not protect from the development of liver cancer.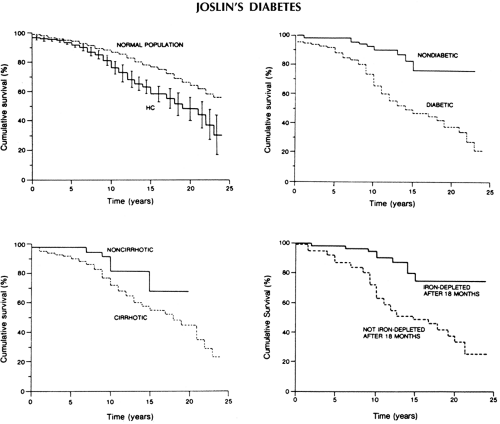 Figure 27.3.
Cumulative survival in 163 patients with hemochromatosis compared with normal population and in the same patients with (
n
= 112) or without (
n
= 51) cirrhosis; with (
n
= 89) or without (
n
= 74) diabetes; and depleted (
n
= 77) or not depleted (
n
= 75) of iron during the first 18 months of venesection (see text for details). All differences were statistically significant (
P
> 0.05 to > 0.002 by log-rank test). (From Niederau C, Fischer R, Sonnenberg A, et al. Survival and causes of death in cirrhotic and noncirrhotic patients with primary hemochromatosis.
N Engl J Med
1985;313:1256–262, with permission. Copyright © 1985 Massachusetts Medical Society. All rights reserved.)
ENDOCRINOPATHIES
The major sites of action of various counterregulatory hormones on target organs and the principal mechanisms of their diabetogenic effects are listed in
Table 27.2
.
TABLE 27.2. Sites of Actions of Major Diabetogenic Hormones in Humans






Liver


---





Muscle


---





Adipose tissue


---






Hormone


β-cell secretion


Glycogena


Gluconeogenesis


Glucose


Amino acid release


Glucose uptake


Lipolysis



Growth hormone


+


+


+


–


?


–


+



Glucocorticoids


+


+


+


–


+


–


+



Catecholamines


–


–


+


–


–


?


+



Glucagon


+


–


+


0


?


0


?



Thyroid hormones


+


–


+


0


0


?


+



+, stimulation; -, inhibition; 0, no effect; ?, uncertain.



aNet effect on glycogen content via glycogen synthesis or glycogenolysis.
Disorders of Growth Hormone Secretion
Classic experiments, using crude pituitary extracts, performed more than 60 years ago demonstrated a relationship between the anterior pituitary and diabetes (
62
). In rat pancreatic monolayer cultures derived from an islet tumor cell line (
63
) or neonatal pancreas (
64
), growth hormone (GH) stimulated β-cell replication, an effect that was claimed to be independent of GH-induced insulin-like growth factors (
64
). However, chronic administration of GH in experimental animals over prolonged periods has been shown to result in hypersecretion of insulin followed by eventual loss of β-cells and permanent diabetes (
65
).
SECRETION AND METABOLIC EFFECTS OF GROWTH HORMONE
The physiology of GH secretion and its diverse metabolic effects on carbohydrate, protein, and lipid metabolism in humans have been studied extensively (
66
,
67
,
68
). In healthy subjects, GH release is stimulated by hypoglycemia, sleep, exercise, stress, and amino acids and is inhibited by hyperglycemia. Recently, a 28-amino-acid gastric hormone, ghrelin, has been identified as a potent ligand for GH secretagogue receptor (GHS-R), probably mediating GH secretion in response to various stimuli via neurons in the hypothalamus secreting growth hormone-releasing hormone (GHRH) (
69
). Infusions of GH in healthy subjects that produce increments in plasma GH levels within the supraphysiologic range (up to 30 to 50 ng/mL) initially result in acute but transient (2 to 4 hours) insulin-like effects, i.e., suppression of hepatic glucose production and enhancement of peripheral glucose clearance (
69
,
70
,
71
,
72
). In fact, insulin levels increase over this period, offering an explanation for some portion of these effects. Subsequently, over a 2- to 12-hour period, similar increments or increments closer to the physiologic range (
73
) are associated with the "delayed" insulin-antagonistic effects. The primary site of GH-induced insulin resistance resides at the level of peripheral tissues (
72
,
73
), as first suggested by the elegant studies of forearm perfusion by Zierler and Rabinowitz (
74
). Although an effect of GH on inhibition of peripheral glucose uptake is well established, the lipolytic effect has not always been confirmed (
67
,
75
).
The understanding of the cellular site of insulin resistance induced by GH is complicated; multiple coexisting factors are involved, including GH concentrations, GH-binding proteins, presence or absence of hyperinsulinemia, and glucose intolerance. In most studies of healthy subjects given GH infusions or of patients with acromegaly, binding of insulin to receptors on circulating monocytes or hepatocytes was found to be little affected as a result of reciprocal effects on receptor number and affinity (
72
,
73
,
66
,
76
). However, in acromegalic patients with fasting hyperglycemia, the compensatory increase in receptor affinity that occurs in such patients with normoglycemia may fail to occur, a factor contributing to glucose intolerance (
77
). In cultured adipocytes, GH was shown to inhibit the expression of the gene for the glucose transporter GLUT1 but not that for the transporter GLUT4 (
78
). Thus, probably both postreceptor and receptor defects in insulin action underlie the diabetogenic effects of GH excess, although the precise nature of these defects remains unknown.
Premium Wordpress Themes by UFO Themes
WordPress theme by UFO themes