Fat Metabolism in Diabetes
Ananda Basu
Michael D. Jensen
The pathophysiology of diabetes mellitus involves impairments in insulin secretion and insulin action. Whereas type 1 diabetes results from extreme impairment or absence of insulin secretion, an important causal factor in type 2 diabetes is resistance to insulin action, with impairment in insulin secretion progressing as the disease continues. In both type 1 and type 2 diabetes, major changes in fatty acid metabolism are concomitant with alterations in carbohydrate metabolism. As will be discussed, perturbations in the release of free fatty acids (FFAs) by adipose tissue result in an increase in plasma concentrations of FFAs. Abnormally high concentrations of FFAs can lead to defects in insulin action. In addition, recent evidence suggests high plasma concentrations of FFAs can affect the secretory capacity of pancreatic β-cells.
OVERVIEW OF FATTY ACID METABOLISM
ASSESSMENT OF FATTY ACID METABOLISM
Both
in vitro
and
in vivo
approaches have been used to study fatty acid metabolism. The
in vitro
approach permits the investigator to control a maximum number of variables during studies of lipolytic regulation. However,
in vivo
studies allow a more physiologic assessment and an understanding of the metabolic processes in the context of the whole organism.
in vivo
methods for studying systemic lipolysis (
10
,
31
,
32
) include isotope-dilution techniques, selective catheterization of adipose tissue venous drainage, and adipose tissue microdialysis. Regional lipolytic rates can be measured with the arteriovenous catheterization (
33
,
34
,
35
) or microdialysis techniques (
34
). The combination of arteriovenous catheterization and isotope-dilution techniques allows investigators to collect information regarding regional fatty acid kinetics (uptake and release). This approach is perhaps one of the most useful techniques for gaining an understanding of regional FFA metabolism
in vivo
.
Systemic appearance and disappearance of FFAs can be accurately measured with isotope-dilution techniques under both steady-state and non-steady-state conditions. An intravenous tracer infusion coupled with arterialized venous or arterial blood sampling provides data that mirror the physiology of the release by adipocytes of FFAs into the venous circulation for delivery to tissues via the arterial circulation. Under conditions of stable FFA concentrations and flux (steady state), the rate of FFA appearance equals its rate of disappearance. FFA flux is calculated using the ratio of tracer infusion rate and the specific activity or enrichment of the tracer in plasma FFAs (
32
).
The choice of isotopic tracers is important in the assessment of FFA kinetics. Although there are slight regional differences in the metabolism of different fatty acids (
36
), the kinetics of the long-chain fatty acids are sufficiently similar to consider the rate of appearance of a single fatty acid such as palmitate or oleate representative of FFA turnover in humans. Differences in the kinetics of linoleate and stearate (the other major long-chain fatty acids) compared with the kinetics of FFAs as a whole are such that tracers of these FFAs are not used to measure FFA flux (
36
,
37
). Both stable isotopic tracers (
13
C or
2
H) and radioactive tracers (
14
C or
3
H) are used. The main disadvantage of
14
C or
3
H tracers relates to radiation exposure. They are unacceptable for use in pregnant women and in children, and some institutions and governments place severe restrictions on the administration of radioisotopes to humans for research purposes. The use of stable isotopic tracers of FFAs provides the advantage of avoiding radiation exposure; however, relatively large amounts of tracer (requiring substantial amounts of albumin) are needed for standard gas chromatography and mass spectroscopy analysis. Recent advances in stable isotope approaches appear to have overcome some of these limitations (
38
).
Isotopic tracers of glycerol have been used to measure systemic lipolysis. The rate of appearance of glycerol is considered to reflect whole-body adipose tissue lipolysis, because adipose tissue does not contain glycerol kinase, the enzyme needed for reuse of glycerol for esterification of fatty acids (
39
,
40
,
41
,
42
,
43
,
44
). Recent studies of glycerol metabolism have suggested that this assumption is unlikely to be rigorously correct (
45
); thus, the rate of glycerol appearance is not a totally reliable measure of total adipose-tissue lipolysis in humans.
Regional FFA kinetics can be estimated with arteriovenous catheterization techniques combined with isotopic-tracer approaches and measurement of plasma flow (
46
), as well as by microdialysis techniques (
47
,
48
,
49
,
50
,
51
). Regional rates of FFA release can be related to regional fat content to assess the lipolytic rates of different adipose tissue beds. Regional fat mass usually is assessed by imaging studies [computed tomography (CT) or
magnetic resonance imaging (MRI)] (
52
) and/or by dual-energy x-ray absorptiometry (
53
). For the most part, these approaches allow accurate measurement of systemic and regional (leg, splanchnic, and nonsplanchnic upper body) FFA kinetics. It should be noted that FFAs released into the portal circulation by omental and mesenteric adipose tissues are partially taken up by the liver before reaching the systemic circulation (
5
,
15
). Therefore, this portion of "hidden" or "unseen" visceral lipolysis cannot be accurately determined despite the use of tracer techniques and arteriovenous catheterization approaches. Nevertheless, it is possible to use the combination of regional catheterization and isotope-dilution techniques to determine the relative contribution of the splanchnic bed, leg, and nonsplanchnic upper-body adipose tissue to systemic lipolysis (
Fig. 16.1
).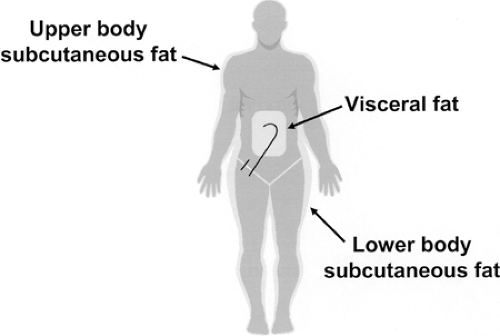 Figure 16.1.
Approach to assessing regional adipose tissue release of free fatty acid (FFA) and regional uptake of FFA. A combination of vascular catheterization techniques (femoral artery, femoral vein, and hepatic vein cathe-ters), FFA isotope-dilution studies, and measurement of regional plasma flow is used. Systemic release of FFAs can then be apportioned to leg, splanchnic, and nonsplanchnic upper body [total – (legs + splanchnic)] regions.
Several agents have been used to manipulate FFA availability to determine the effects of FFA on tissue function. The agents most commonly used to lower plasma FFA concentrations are nicotinic acid (
54
) and acipimox (
55
,
56
,
57
). Etomoxir (
57
,
58
) (inhibits carnitine acyltransferase) has been used to inhibit FFA oxidation without lowering FFA concentrations. FFA plasma levels have been raised by intravenous infusion of a lipid emulsion to raise serum levels of triglycerides together with heparin to release LPL into the circulation (
6
,
59
), thereby generating FFA by the intravascular hydrolysis of triglycerides.
GLUCOSE-FATTY ACID INTERACTIONS