Cell Biology of Insulin Secretion
Under physiologic conditions, the concentration of blood glucose fluctuates only in a narrow range despite alternations in periods of food intake and fasting. This stability is due to a remarkably efficient hormonal system that exerts opposite effects on the organs of glucose storage and production. Whereas several hormones can prevent dangerous declines in blood glucose concentrations by stimulating glycogenolysis and gluconeogenesis, insulin secretion by β-cells of the islets of Langerhans is the only efficient means by which the organism can decrease the blood glucose concentration. Any alteration in the β-cell functioning has thus a profound impact on glucose homeostasis: excessive secretion of insulin causes hypoglycemia, and insufficient secretion leads to diabetes mellitus. It is therefore not surprising that insulin secretion is subject to tight control. This control is ensured by glucose itself and by an array of metabolic, neural, hormonal, and sometimes pharmacologic factors, which necessitates rapid integration by β-cells of a host of signals generating intracellular messengers.
Stimulus-secretion coupling in β-cells is astonishingly complex and still incompletely understood despite continuous investigation. However, its main features are beginning to appear clearly enough to gain wide acceptance. Only these major characteristics will be discussed here, leaving issues that are too controversial and specialized for more specific review articles. Because this chapter is devoted to normal stimulus-secretion coupling, I have given preference to publications of studies performed with normal β-cell models and limited those of studies using insulin-secreting cell lines that often show abnormal properties. Although
in vitro
studies of normal adult human islets are still few, they indicate that the information gained from animal experiments can be extrapolated in large part to humans. Only functionally important specificities of the human β-cell will thus be highlighted.
IDENTIFICATION OF GLUCOSE BY β-CELLS
THE TRIGGERING PATHWAY OF GLUCOSE-INDUCED INSULIN SECRETION
THE AMPLIFYING PATHWAY OF GLUCOSE-INDUCED INSULIN SECRETION
In addition to the generation of a triggering signal, an increase in [Ca
2+
]
i
, glucose-induced insulin secretion involves the generation of signals that amplify the action of Ca
2+
on the exocytotic process (
42
) (
Fig. 6.2
). This concept was established by experiments showing that glucose can still increase insulin secretion when K
+
-ATP channels cannot be closed (
91
,
92
,
93
) or are already completely closed (
94
,
95
,
96
).
Mechanisms of the Amplifying Pathway
The amplifying pathway requires the metabolism of glucose by β-cells (
91
). The second messenger has not been identified with certainty, but good correlations exist between the ATP/ADP ratio and glucose-induced insulin secretion through this pathway (
38
,
92
). Moreover, several experimental approaches have established that ATP influences insulin secretion at steps distal to the increase in [Ca
2+
]
i
(
98
,
99
,
100
). There is also good evidence that cAMP-dependent protein kinase A and diacylglycerol-activated protein kinase C are not involved (
92
,
101
,
102
). Whether long-chain acyl CoAs participate in this effect is still disputed (
101
,
103
). More complete discussion of this question can be found elsewhere (
42
).
Hierarchy between the Triggering and Amplifying Pathways
Under control conditions, the concentration dependency of glucose-induced insulin secretion displays a sigmoidal shape (
Fig. 6.6A
). A similar relationship characterizes generation of the triggering signals, electrical activity, and increase in [Ca
2+
]
i
by glucose (
104
,
105
,
106
). The threshold corresponds to the glucose concentration required to depolarize the β-cell membrane to the potential where voltage-operated Ca
2+
channels start to open and the triggering signal thus starts to be produced. In contrast, the concentration dependency of the amplifying pathway, which can be established when the triggering signal is kept constant by high K
+
in the presence of diazoxide, is hyperbolic and shifted to the left (
Fig. 6.6B
). Low concentrations of glucose are thus able to influence insulin secretion, but their influence manifests itself only when a triggering signal has been produced. The similarity of the concentration dependencies of glucose-induced triggering signal and secretory response establishes a clear hierarchy between the two pathways: The amplifying pathway remains functionally silent as long as the triggering pathway has not depolarized the membrane and increased [Ca
2+
]
i
, but its role is essential to optimize the secretory response to the triggering signal (
42
). This hierarchy ensures that no insulin is inappropriately secreted in the presence of low glucose. It may be altered when the function of K
+
-ATP channels is perturbed by genetic alterations or by long-acting sulfonylureas (
42
).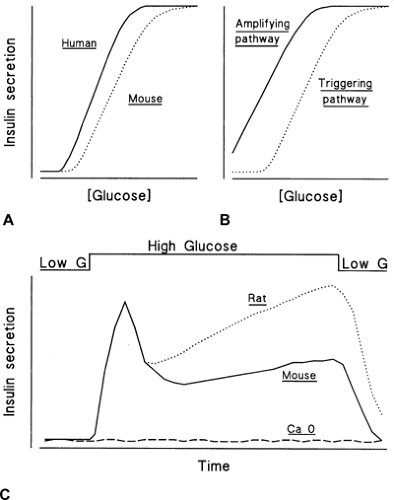 Figure 6.6.
Concentration dependence and kinetics of glucose-induced insulin secretion
in vitro
.
A:
The relationship between the glucose concentration and insulin secretion is sigmoidal; it is shifted to the left in humans as compared with the curve in mice; the curve would be intermediate in the rat.
B:
The triggering and amplifying pathways of glucose control of insulin secretion show distinct dependences on the glucose concentration.
C:
An abrupt increase in the glucose concentration triggers a biphasic secretion of insulin. During second phase, the rate of secretion increases more in the rat than in the mouse. Insulin secretion is not stimulated in the absence of extracellular Ca
2+
(Ca 0).
OTHER PUTATIVE MESSENGERS IN THE β-CELL RESPONSE TO GLUCOSE
As previously discussed, changes in the cytoplasmic ATP/ADP ratio in β-cells are currently thought to be the major coupling factor between glucose metabolism and the biophysical events leading to the generation of the triggering signal. There is also evidence for a role of the ATP/ADP ratio in the amplification pathway (
Fig. 6.2
). Over the years, however, many other messengers have been considered to play a role in the β-cell secretory response to glucose.
Metabolic Factors
The hypothesis that a specific intermediate of glucose metabolism (e.g., of glycolysis) is directly involved in triggering secretion was abandoned when it became evident that fuel secretagogues metabolized through distinct pathways have largely similar effects.
Malonyl Coenzyme A and Long-Chain Acyl Coenzyme A
The anaplerotic characteristics of glucose metabolism in β-cells lead to the formation of excess citrate that exits mitochondria to serve as a precursor of malonyl CoA in the cytoplasm (
36
) (
Fig. 6.1
). Malonyl CoA then inhibits carnitine palmitoyl transferase I and reduces fatty acid uptake by mitochondria, which explains the inhibition by glucose of the oxidation of endogenous (and exogenous) fatty acids (
118
,
119
). The result is an increase in cytosolic long-chain acyl CoAs that are proposed to serve as effector signal molecules (
36
). Because long-chain acyl CoAs open K
+
-ATP channels (
120
), they cannot underlie generation of a triggering signal by membrane depolarization. Long-chain acyl CoA seems to increase the efficacy of Ca
2+
on exocytosis (
121
). This attractive model has, however, been challenged by the demonstration that glucose-induced insulin secretion does not correlate with the extent to which lipids are either oxidized or esterified (
122
). Other signaling functions of glucose-regulated anaplerosis are currently being investigated (
123
).
Cyclic Adenosine Monophosphate
Glucose increases the concentration of cAMP in β-cells slightly (
124
), probably secondarily to the increase of [Ca
2+
]
i
and the activation of adenylate cyclase by a Ca
2+
-calmodulin protein kinase (
125
). Several phosphodiesterases (PDE) that degrade cAMP are present in β-cells, but the PDE 3 isoform is predominant both quantitatively and functionally (
126
,
127
). There is no doubt that an increase in cAMP concentration in β-cells is not a sufficient signal to trigger insulin secretion, but it can amplify the response to various secretagogues. Whereas the role of this amplification during hormonal stimulation of β-cells is well established (see below), its role during stimulation by glucose alone is much less clear. Experiments with isolated β-cells suggest that a minimal concentration of cAMP is necessary for normal stimulation of insulin secretion by glucose (
128
), and hormones that increase cAMP levels have been suggested to increase the glucose competence of poorly responsive β-cells (
129
). In contrast, inhibitors of protein kinase A do not impair the effect of glucose in intact islets (
130
).
Inositol Phosphates and Diacylglycerol
Glucose stimulates both the synthesis and hydrolysis of phospholipids in β-cells (
131
,
133
,
134
). However, the breakdown of phosphatidylinositol 4,5-bisphosphate and accumulation of inositol 1,4,5-trisphosphate are not primary signals but rather consequences of the increase in [Ca
2+
]
i
(
133
,
134
). The acceleration of phospholipid turnover by glucose may serve to optimize the potentiation of insulin secretion by agonists acting via phospholipase C-linked receptors (see below).
Glucose stimulates de novo synthesis of diacylglycerol in β-cells. However, this diacylglycerol is richer in palmitate and poorer in arachidonate than is the diacylglycerol generated by hydrolysis of preexisting glycerolipids and does not significantly increase the total mass of diacylglycerol in islet cells (
135
). This may explain why glucose is usually (
136
,
137
,
138
), although not consistently (
139
,
140
), found not to translocate and activate protein kinase C in β-cells. It is possible that activation of protein kinase C (by diacylglycerol or another stimulator) contributes to the second phase of insulin secretion in certain species (
102
), but the bulk of the evidence indicates that its role in glucose-induced insulin secretion is not a major one.
Arachidonic Acid and Other Lipid Derivatives
Glucose stimulation of islet cells increases the release of arachidonic acid from phospholipids. However, decisive arguments that arachidonic acid itself plays a role in stimulus-secretion coupling are still missing (
132
,
138
,
141
). On the other hand, metabolites of arachidonic acid could modulate glucose-induced insulin secretion. The latter is decreased by prostaglandins and increased by certain products formed by lipoxygenation. It has been suggested that phosphatidic acid, formed by activation of phospholipases or by de novo synthesis from glucose, and lysophospholipids formed by activation of phospholipase A
2
, might be involved in glucose-induced insulin secretion (
138
). In no case, however, have the reported effects of these substances carried conviction that their role is critical in stimulus-secretion coupling.
GENERAL CHARACTERISTICS OF GLUCOSE-INDUCED INSULIN SECRETION
Links between Insulin Synthesis and Secretion
The mechanisms of insulin biosynthesis and of its regulation by glucose are dealt with in detail in
Chapter 5
.
Short-term control of insulin secretion does not depend on insulin synthesis. Pancreatic insulin stores largely exceed the maximal secretory rates (∼5% of insulin content per hour). The inhibition of insulin secretion that follows blockade of protein synthesis in β-cells does not reflect requirement of insulin synthesis (
142
) but results from the loss of other proteins with a short half-life (
143
). The first alteration is a rapid (1 to 2 hours) impairment of the action of Ca
2+
on exocytosis followed by a delayed (>5 hours) decrease in the production of the triggering signal (
143
). Insulin synthesis and secretion can also be dissociated under several conditions. In contrast to glucose and other fuel secretagogues that stimulate both processes, several agents (e.g., arginine, acetylcholine, and hypoglycemic sulfonylureas) increase insulin secretion without increasing its synthesis (
2
,
144
). It also is possible to abolish the effects of glucose on secretion without affecting those on synthesis (e.g., by omitting extracellular Ca
2+
) (
2
,
144
).
Insulin synthesis and secretion are, however, not completely independent events. Under certain circumstances, isolated islets release newly synthesized insulin in preference to older stored hormone (
145
). This may indicate that insulin granules do not undergo exocytosis at random but that a subpopulation of newly formed granules is "marked" to be released rather than to be stored (
146
). The mechanisms of this marking are not known. Alternatively, the phenomenon of preferential release of newly formed insulin could be due to β-cell heterogeneity within the islets (
147
). If the rise in glucose concentration recruits the same β-cells to synthesize (
148
) and to release insulin, and if these cells have low stores of preformed insulin, an apparent preferential secretion of newly formed insulin may be measured.
Concentration Dependency: Recruitment and Increase in the Individual Responses