Figure 12.1
H&E, 20× magnification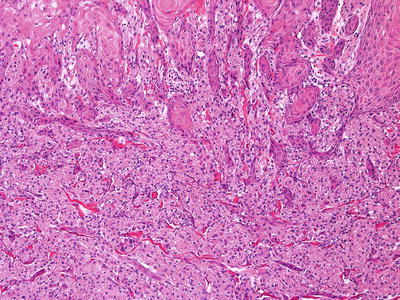 Figure 12.2
H&E, 100× magnification
This feature creates a well-know pitfall that may happen in a limited sample of a granular cell tumour. One can see how easy a diagnosis of invasive well-differentiated squamous cell carcinoma can be made in a superficial biopsy sample. This can lead to a potentially harmful surgery, especially when the lesion is present in the tongue, which is a common site for Granular Cell Tumors. The tumor cells are quite monomorphous, with small round nuclei and abundant granular eosinophilic cytoplasm (Fig.
12.3
). The tumor cells were diffusely positive with S-100 immunohistochemical stain.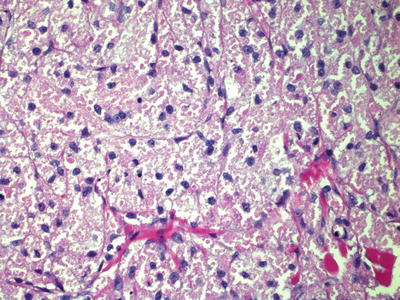 Figure 12.3
H&E, 400× magnification
Discussion
Granular Cell Tumors are uncommon and when they occur they are most common on the head and neck. Surgical excision is the treatment of choice. The recurrence rate for Granular Cell Tumors has been reported at 2 %, when local wide excision has been undertaken [
10
]. Most Granular Cell Tumors can be easily managed by wide local excision; however, in cosmetically sensitive areas where tissue preservation is paramount – such as the penis, Mohs Micrographic Surgery has been used [
11
]. Our patient was unusual, given it was the symptomatic nature of the lesion that led to the diagnosis – the patient was unable to sit due to buttock pain which resulted in the initial referral, and the impression during surgery was of a cyst, neurofibroma or a pilomatrixoma. A survey of buttock tumors suggested that when pain is present, it is usually due to cyst formation in old haematomas, and pain along the course of the sciatic nerve and its branches was present in 40 % of the cases [
12
].
Granular Cell Tumors are usually painless masses in the head, neck or extremities and hence in our patient, the diagnosis was only made subsequently upon histological examination. It is interesting that as far as Granular Cell Tumors are concerned, when malignant cases are reported (in 1–2 %), the most common site is the soft tissue of the thigh, rather than the head and neck area. [
13
] The malignant versions of Granular Cell Tumors are more common in African-American females, and the mean age range of patient with malignant tumors is similar to the benign group i.e. 30–50 years. The treatment of choice is wide complete local excision, as was performed in our patient. The recurrence rate after incomplete excision results in a recurrence rate of 21–50 % [
14
]. This case report suggests that Granular Cell Tumors must be considered in the differential diagnoses of lipomas. Several authors have mistaken them for lipomas. Approximately 5 % of GCT occur in the gastrointestinal tract, with predilection for the esophagus. Due to the similarity in endoscopic appearance, some gastroenterologists [
15
] suggest granular cell tumors may often be mistaken for lipomas and are perhaps more common than the reported literature suggests.
While they are rare, they are commoner in blacks and show a slight female preponderance. Usually presenting as solitary and painless masses, less than 10 % are multiple, and fewer than 3 % of tumors show features of malignancy. Mean age is 40–60 years. An interesting report noted a 45-year-old man with a single, firm, painless and mobile cutaneous nodule 2 cm in size on his right arm. This was excised and the histology confirmed as a granular cell tumour [
16
]. However, the authors in this case noted a strange occurrence. Four years after the initial diagnosis, the patient presented with enlarging subcutaneous nodules on the trunk, left arm and left buttock, associated with a drop in hemoglobin.
A nodule was surgically removed from the left buttock, and this time the histopathological examination revealed a granular cell tumour with malignant features. The authors caution that in benign cutaneous granular cell tumors, as our case was, recurrences can occur many years after the original diagnosis. Therefore long-term follow up is important. This recurrence may involve malignant transformation and also involve gastrointestinal organs besides the skin [
16
]. Indeed authors have reported granular cell tumors as 'incidental findings' when haemorrhoids have been removed and histological analysis has been done [
17
]. There is also a report of a
cutaneous
granular cell tumor of skin of the arm diagnosed on fine needle aspiration cytology, which the clinicians had felt was a possible dermatofibroma [
18
]. The authors in this case comment that while in most cases the cytological features are distinctive enough, soft tissue sarcomas need to be excluded. As they note, sarcomas typically show prominent nucleoli, multinucleated cells, and the characteristic rhomboid crystals. The absence of cross-striations and glycogen distinguishes a granular cell tumour from a rhabdomyoma while the absence of lipid droplets excludes a lipoma-variant such as a hibernoma [
18
].