Fig. 1
Schematic illustration of the major cellular and noncellular components of the tumor microenvironment (TME). The EPR effect facilitates nanoparticle (NP) accumulation. However, high interstitial fluidic pressure (IFP), pericyte coverage, and the basement membrane limit NP extravasation from the blood vessels toward the interstitial space. When NP extravasate from the blood vessels, stroma cells and the extracellular matrix act as another barrier to further inhibit NP diffusion
Most nanotechnology research focuses on improving NP penetration and diffusion to tumor cells, and not on distribution of NP to other cellular components in stroma. Endothelial cells, TAFs, or tumor, associated macrophages (TAM), have been recognized as major components that promote cancer progression, therapy resistance, and metastasis formation [
44
–
47
]. The modulation of these stromal cellular components by either small molecules or nanodrugs can facilitate the remodeling of tumor blood vessels or ECM. In addition, imaging of the TME by NP that target stroma cells increasingly contribute to accurate diagnosis, early response evaluation and treatment guidance. In this review, we discuss the barriers to NP delivery, and provide strategies to overcome these limitations. We also summarize NP that are designed to target stroma cells in vivo, discuss their diagnostic application in tumor imaging and the paradoxical therapeutic effects induced by stroma cell damage and depletion [
48
–
50
].
Finally, we propose possible strategies to overcome the heterogeneity of solid tumor patterns, the complexity of stroma cells in NP delivery, and also mention the NP-based diagnostic and therapeutic applications in metastatic tumors.
2

Paradoxical Features of the Tumor Microenvironment Impacting Nanoparticle Accumulation and Penetration
3

The Relationship Between Nanoparticle Subtumoral Distribution and Tumor/Stroma Biological Interaction

In the previous section, we described the stroma as a physical barrier for NP extravasation from blood and diffusion into tumor cells. We then proposed methods to promote NP accumulation and improve diagnostic and therapeutic effects. Apart from being a physical barrier, the stroma, especially stroma cells, also support tumor growth through a direct cell adhesion interaction or in a paracrine manner mediated by secreted factors. Therefore, stroma cells and noncell components can be recognized as potential targets for antitumor therapy. In a preliminary experiment with a human bladder cancer model, we have quantified the intratumoral distribution of DiI-labeled liposomes and observed that around 20 % of liposomes were passively internalized by TAFs, one of the major stroma cells (Data not published). This raises the following questions: What is the amount of NP accumulated in the interstitial space that are actually internalized by tumor cells? What kind of stroma cells have taken up the accumulated NP? What is the response of stroma cells to the therapeutic NP? Will the stroma-tumor interactions be affected by NP assaulted stroma cells? These questions await answer in future experiments.
3.1

Nanoparticles that Target Endothelial Cells

NP resident within the tumor vasculature first encounter layers of endothelial cells and are ready to be internalized by them. Nontargeted PEGylated NP was internalized by endothelial cells through a low-density lipoprotein receptor-mediated pathway or other alternative pathways in vivo [

132

]. Since therapeutic strategies for regulating endothelial cells can result in tumor shrinkage via decreasing oxygen and nutrients supply, some nanomedicines are designed to actively target endothelial cells and increase cellular internalization. Targeting endothelial cells evades the stroma barriers and decreases the potential of drug-mediated resistance based on the genetic stability of endothelial cells. In addition, some endothelial cell markers also exist on the tumors, making these NP a dual targeting agent with a broad-spectrum of effects [

65

]. Integrin ανβ3 is preferentially expressed on angiogenic endothelium in malignant tissue and widely used as an endothelial target [

65

]. Many recent studies have shown that functional therapeutic NP (loaded with doxorubicin, or antiangiogenesis agent) modified by integrin targeting peptide or cyclic or linear derivatives of RGD oligopeptide ligands can result in a strong inhibition of tumor growth [

133

–

135

]. RGD modification can also be used to improve vasculature imaging. For example, iRGD conjugated super-paramagnetic iron oxide NP (SPIONs) are able to image integrin ανβ3/β5-positive tumor neovasculature in vivo through MRI [

136

].
3.2

Nanoparticles that Target Macrophages

Preclinical studies indicate that TAMs represent an attractive target since they have been identified as an independent poor prognostic factor in several tumors types [

47

]. Antibodies, such as anti-CSF-1R, have been used to target TAMs and showed promise [

47

]. Since TAMs have a high expression of mannose receptor, mannose has been used as a targeting ligand for NP-based TAMs delivery [

137

,

138

]. Many NP have also been engineered to image TAMs for diagnostic purposes [

139

]. The recognition that MRI-compatible nanomaterials can label TAMs dates back to the mid-1990s and has recently found renewed interest. Macrophage-specific PET imaging agents are also being developed [

139

]. TAMs were previously viewed as agents dispatched by the immune system to attack and eliminate tumors (M2 macrophage). However, extensive research over the past decade implicates that a sub-group of TAMs, known as M1 macrophages, has antitumorigenic properties [

47

]. Therefore, current focus has been shifted from exclusively depleting and imaging all TAMs to modulating the ratio of M1/M2 macrophages for improved therapy. Therapeutic NP should be able to target M2 macrophages, inhibiting M2 function or converting them into an antitumorigenic M1 subtype.
3.3

Nanoparticles that Target TAFs

TAFs are mesenchymal-like cells playing key roles in transformation, proliferation, and invasion of tumors [

33

,

140

]. The majority of TAFs originate from trans-differentiation of resident fibroblasts, pericytes, or adipocytes in response to tumor secreted growth factors such as TGF-β, endothelin-1, and fibroblast growth factor 2 (FGF2). Alternatively, TAFs can also derive from distant sources such as bone marrow-derived mesenchymal stem cells (MSCs) [

33

]. Homing of MSCs to neoplastic sites induces their trans-differentiation into more aggressive α-SMA, fibroblast activation protein (FAP), tenascin-C and thrombospondin-1 expressing TAFs, and pericytes. In addition, TAFs can stem from epithelial cells following the initiation of an epithelial–mesenchymal transition, or from endothelial cells undergoing endothelial to mesenchymal transition (EndMT) [

44

,

46

,

141

]. TAFs synthesize and secrete ECM and regulate the release of degrading enzyme and growth factors. TAFs can activate angiogenesis through TGF-β mediated secretion of VEGF-A, or through recruiting of circulating endothelial progenitor cells [

33

]. TAFs can also secrete cytokines, such as CXCL12, to direct tumor lung metastasis or tumor immune invasion through binding with CXCR4 on remote premetastatic niche [

142

].

Recent research indicates that several passively diffused therapeutic NP can specifically distribute to TAFs and induce cell death. Cellex, a docetaxel-conjugate NP developed by Murakami et al., is a good example of this [

143

]. Cellex is a 120 nm NP that can reduce α-SMA content by 82 and 70 % in the 4T1 breast cancer model and the MDA-MB-231 model, respectively, native docetaxel and Abraxane exert no significant antistromal activity. Recently in our own lab, lipid-coated calcium phosphate NP encapsulating chemodrugs and siRNAs (LCP), and lipid-coated cisplatin NP (LPC) with cisplatin as both carrier and anticancer agents have been synthesized [

15

,

144

,

145

]. Both LCP and LPC NP can penetrate the TME barrier and distribute to TAFs. In a recent study, Zhang et al. indicated that a combination of gemcitabine LCP NP and cisplatin LPC NP can target TAFs and block α-SMA positive fibroblast recruitment by more than 87 % after multiple injections in a stroma-rich bladder cancer model (Fig.

9

) [

53

]. In another study, cisplatin was also reported to deplete TAFs when co-delivered with an mTOR inhibitor in PLGA NP (Fig.

10

) [

146

]. Transient depletion of TAFs increased tumor permeability, suppressed IFP, increased NP accumulation, and inhibited tumor metastasis [

50

,

95

,

147

,

148

]. In both Zhang and Murakami's work, naïve TAFs are very sensitive to docetaxel and cisplatin, and show significant stromal depletion post single injection (Fig.

9

). The mechanism of NP passively diffused to TAFs is not discussed in detail in the two aforementioned manuscripts. One possible reason may be that the majority of TAFs, especially α-SMA positive pericytes were localized around endothelial cells. When NPs are extravasated from the capillary wall, they immediately encounter these TAFs, which lead to their preferential internalization. Suitable particle size and materials with a high TAFs affinity can also explain the TAFs distribution. A significant depletion of α-SMA positive cells at the initial dose may also result from different responses of TAFs and tumor cells to therapeutic NP. That is to say, NP can be internalized by both tumor cells and TAFs. However, the latter has a lesser proliferating rate is more sensitive to chemotherapy and is less likely to induce resistance.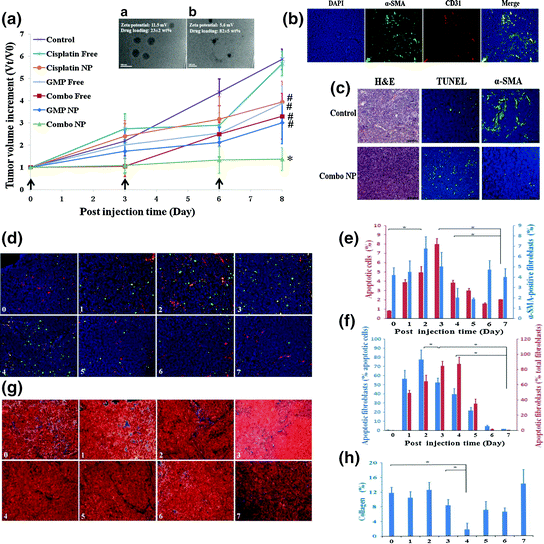 Fig. 9
Combination of GMP LCP NP and cisplatin LPC (Combo NP) target α-SMA positive TAFs and suppress tumor growth in a stroma-rich bladder cancer model.
a
Tumor growth inhibition of different formulations on stroma-rich tumor bearing mice. Combo NP showed the most significant antitumor effect.
a
TEM of GMP LCP NP.
b
TEM of cisplatin LPC NP.
b
The distribution of TAFs (α-SMA,
green
) and blood vessels (CD31,
red
) in the stroma-rich model.
c
Effect of Combo NP on the induction of apoptosis and inhibition of TAFs. Then, tumor bearing mice were further treated with a single injection of combo NP and tissues were collected and analyzed every day post injection. (From
d
to
h
).
d
Double staining for SMA positive TAFs (
red
), TUNEL (
green
) and apoptotic fibroblast (
yellow
).
e
Quantitative results for TUNEL-positive cells and α-SMA positive fibroblasts.
f
Quantitative results for apoptotic fibroblasts expressed as the percentage of total apoptotic cells and fibroblasts.
f
Masson's trichrome stain for collagen (
blue
).
g
Quantitative results for collagen expressed by the area (%). α-SMA positive TAFs. Collagen decreased significantly on the fourth day post single injection (Reproduced from Zhang et al. 2014, copyright of Elsevier)
Premium Wordpress Themes by UFO Themes
WordPress theme by UFO themes