Fig. 1
Age-standardized incidence of cancer (all sites) in different tropical areas in 2008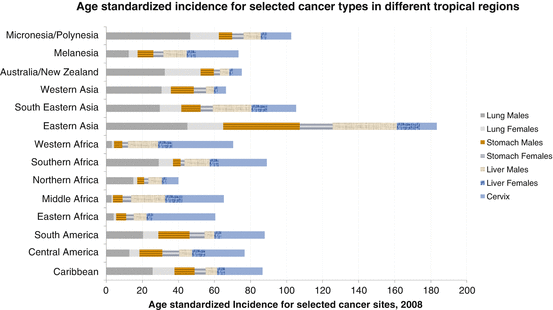 Fig. 2
Age-standardized incidence of selected types of cancer in different tropical areas in 2008
For countries with low or medium human development index, the highest incidences reported for cancer are by decreasing order lung, gastric, liver, female breast, colorectal, cervical, and esophageal. The standardized incidence for stomach, liver, cervical, and esophageal cancer is significantly higher in the low- and medium-human development index countries than in the high- or very high-human development index countries. For mortality, the main cancers for low and medium development index are lung, liver, gastric, esophageal, colorectal, breast, and cervical cancer. There again, as for incidence the standardized mortality for stomach, liver, cervical, and esophageal cancer is significantly higher in the low- and medium-human development index countries than in the high- or very high-human development index countries [
2
]. Recent trends extracted from the registries show a transition in low and medium human development index with prostate, breast, and colorectal cancers increasing since 1988, whereas cervical and gastric cancers tended to decrease. These trends however rely on the very rare registries in these countries.
In 2008, about 47 % of all cancer cases were from less developed areas (45 % in medium-human development index and +2 % in the low-development index areas which represented 6 % of the world population). However, GLOBOCAN projections suggest that at the 2030 horizon, assuming constant incidence rates and UN population growth estimates, the total number of cancer cases should increase 75 % mostly in the areas of lower human development index, where the number of cases should increase 93 %. Colorectal, breast, and prostate cancer should increase, whereas gastric and cervical cancer are expected to decrease [
2
].
Given these figures and projections, prevention and screening are of paramount importance to alleviate the burden of cancer in the tropics.
1

Primary Prevention
1.1

Infectious Causes of Cancer
1.2

Viruses

Other infections such as the Epstein-Barr virus, in conjunction with malaria, may result in Burkitt's lymphoma or nasopharyngeal carcinomas. However, most persons are infected by EBV during childhood and specific primary prophylaxis measures against these cancers do not exist. The HHV8 virus is related to Kaposi's disease and Castleman's disease, notably among HIV-infected patients. Apart from antiretroviral to avoid immunosuppression, no specific primary prophylaxis exists for these tumors. HIV is also associated with an increased incidence of various cancers, notably in the most severely immunocompromised patients. There again, antiretrovirals to maintain immunity may contribute in preventing cancer.
1.3

Bacteria

Helicobacter pylori

infects up to 90 % of the populations in the tropical areas. Some will develop ulcers, chronic gastritis, and rarely gastric cancer. Although, once diagnosed,

H. pylori

may be eradicated by antibiotics, success is not constant and reinfection may occur. General socioeconomic development, improvement of hygiene levels, increased use of refrigeration, increased availability of fresh fruits and vegetables, decreased reliance on salted and preserved foods, and increased availability of antibiotics may decrease

H. pylori

colonization rates in the population and ultimately reduce the burden of gastric cancer.