Site
Optimal radiotherapy utilisation rate (%)
Bladder
47
Brain
80
Breast
87
Cervix
71
Colon
4
Gall bladder
17
Head and neck
74
Kidney
15
Leukaemia
4
Liver
0
Lung
77
Lymphoma
73
Melanoma
21
Myeloma
45
Oesophagus
71
Other
19
Ovary
4
Pancreas
49
Prostate
58
Rectum
60
Stomach
27
Testis
7
Thyroid
4
Unknown primary
61
Uterus
38
Vagina
94
Vulva
39
3

Radiotherapy Equipment

Radiotherapy can be delivered by a radiotherapy machine (external beam radiotherapy or teletherapy) or using radioactive sources (brachytherapy). There are two main types of radiotherapy machines available in tropical countries: cobalt-60 machines and linear accelerators (linacs).

Cobalt machines are able to deliver simple, effective radiotherapy plans through a cobalt-60 source housed in the radiotherapy machine. The first functioning cobalt-60 machine was developed in London, Ontario, Canada in 1961, but in high-income countries, there are now few machines remaining. According to the International Atomic Energy Agency (IAEA)'s DIrectory of RAdiotherapy Centres (DIRAC) database [

7

], in 2013, only 17 % of world's external beam radiotherapy machines were cobalt. However, in many tropical countries, cobalt-60 machines account for a higher proportion of radiotherapy machines, e.g. in Colombia, just under half of its 70 external beam machines are cobalt. Overall, the proportion of cobalt machines available worldwide is decreasing, consisting of 32 % of 288 machines in African continent in 2013 compared to 60 % of the 155 machines available in 1998 [

1

].

The advantages of cobalt-60 machines include less dependent on a constant power supply, simpler installation, less maintenance and quality assurance programmes and repairs. The initial cost of cobalt-60 machines is also lower at approximately 1/3 to ½ of the cost of a linac [

18

]. However, cobalt-60 sources should be replaced every 5–7 years which significantly increases their lifetime costs.

A linear accelerator (Fig.

1

) accelerates electrons via a wave guide onto a tungsten target, generating x-rays, also called photons, which are then aimed at the tumour. The advantages of linacs include their increased versatility, with the ability to deliver a range of different beam energies, electron beams as well as photons and the potential to deliver complex treatments. As well, the absence of a cobalt source removes the potential issues of source theft, slow dose rate associated with decaying cobalt sources and the complex radiation safety concerns associated with a radioactive radiation source [

12

]. The disadvantages of linacs are the requirement for expert quality assurance to ensure that the machine is producing a safe beam and the ongoing maintenance costs which are usually equivalent to 10 % of the purchase cost per annum. Replacement parts may be expensive and difficult to procure in low-income countries (Fig.

1

).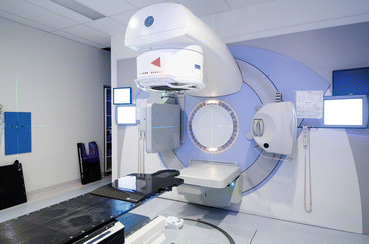 Fig. 1
Linear accelerator (Photo credits: Thomas Tran)
Brachytherapy units use radioactive sources such as iridium-192 to provide temporary intracavitary, interstitial or intraluminal irradiation to tumours. This technique is able to deliver a high dose of radiotherapy to tumours, with a rapid dose fall-off to reduce dose to critical structures ('brachy' comes from a Greek word meaning 'close'). In combination with external beam radiotherapy, brachytherapy is the only curative treatment for advanced cervix cancer. Cervix cancer is common in many tropical countries such as Tanzania where it accounts for 30 % of all cancer cases (
​GLOBOCAN.​iarc.​fr
).
4

Service Delivery: Resources and Staffing

The delivery of radiotherapy requires both specialised equipment and staff:





The

radiation oncologist

is a doctor who has specialised in the treatment of cancer and selected benign conditions with radiation.






The

radiation therapist

is a technical person skilled in the planning and delivery from the radiation source or machine of the prescribed dose.






The

radiation physicist

helps to ensure that the dose prescribed is actually delivered by dose verification measurements and plays a major role in radiation safety issues.
Access to radiotherapy in many tropical countries is limited. As seen in Fig.
2
, some countries have no radiotherapy services available at all. In many tropical countries where radiotherapy is available, the ratio of patients to radiotherapy machines is higher than the recommended standard of 400–450 patients per year [
15
]. Another factor limiting the provision of radiotherapy services is the lack of trained, specialised staff. The ESTRO-QUARTZ project recommends workforce planning of one radiation oncologist per 200–250 patients per year and one physicist per 450–500 patients per year.