Iodine is essential for the synthesis of thyroid hormones. With four iodines per molecule of T
4
, iodine comprises 66% of T
4
by weight; with three iodines, T
3
is 58% iodine (
Fig. 30-1
). Normally, ˜90 μg (˜120 nmol) of T
4
and 6.5 μg (˜10 nmol) of T
3
are secreted daily by the thyroid gland. Thus, 60 to 80 μg (˜550 nmol) of iodine must be transported into the gland daily to maintain normal daily hormone production.
1
Iodine is not always present in sufficient quantities from dietary sources in the environment. Surprisingly, even in the United States, the daily iodine intake has been declining.
2
Accumulation of the absolute iodine requirement for thyroid hormone synthesis is facilitated by an efficient system for concentrating and conserving iodine in the thyroid gland. Between 5000 and 10,000 μg of hormonal iodine is stored within the gland.
1
This pool constitutes a protective reserve against periods of dietary iodine deficiency.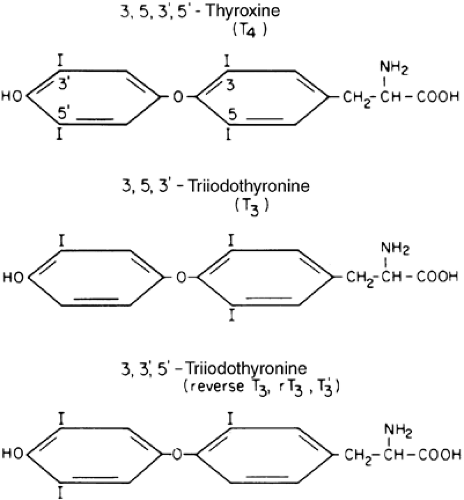 FIGURE 30-1.
Chemical structures of L-thyroxine (
T4
), L-triiodothyronine (T
3
), and reverse T
3
(rT
3
). (From Hershman JM. Endocrine pathophysiology. Philadelphia: Lea & Febiger, 1980.)