Fig. 16.1
HPV viruses belong to the Papillomaviridae family that includes 16 genera [
2
]
1.2

Genotypes

To date, more than 150 human papillomavirus (HPV) types have been completely sequenced. The HPV types linked to anogenital and oropharyngeal cancers are generally categorized as high-risk and low-risk types based on their association with human cancer on epidemiological studies or on their evolutionary profile [

3

,

4

]. Among all potential high-risk types, 12 HPVs (16, 18, 31, 33, 35, 39, 45, 51, 52, 56, 58, and 59) are classified by the International Agency for Research on Cancer (IARC) as

carcinogenic to humans

(category 1); HPV 68 is categorized as

probably

carcinogenic (Group 2A) and HPV types 26, 30, 34, 53, 66, 67, 69, 70, 73, 82, 85, and 97 as

possibly

carcinogenic (Group 2B) [

5

]. Among cervical cancer cases, 96.9 % will harbor types belonging to the IARC Group 1, and over 70 % of cervical cancers will be attributable to HPV 16 and/or 18 [

6

,

7

]. In sites other than cervix, HPV 16 tends to play even a higher contribution (Table

1

).

Table 16.1

HPV types according to the level of evidence of carcinogenicity for human cancer












HPV broad risk categories






International Agency for Research on Cancer (Vol 100B)






HPV type






Relative contribution in cervical cancer (%)d








High risk






Group I




Carcinogenic to humans






16, 18, 31, 33, 35, 39, 45, 51, 52, 56, 58, and 59






96.9







Group 2A




Probably carcinogenic to humans






68






0.7







Group 2B




Possibly carcinogenic to humans






26, 53, 66, 73, 82






1.3







30, 34, 69, 85, 97a






0.5







5, 8b






0







Low risk






Group 3






6, 11c






0.1
2

HPV Acquisition and Persistence in the Cervical Mucus

Mucosal HPV infection in the cervical mucus is very common and largely acquired through sexual activity. As such, HPV is highly prevalent in the years around sexual initiation decreasing thereafter as a consequence of acquired immune response and a decrease of sexual exposure of new partners with age [

9

,

10

]. When data on women of all ages and with no disease are combined, the estimated point prevalence of HPV infections worldwide is around 11–12 % (Fig.

3

). The estimates are higher in sub-Saharan Africa (24 %), Eastern Europe (21 %), and Latin America (16 %). Lower estimates are seen in Northern Africa (9 %) and Western Asia (2 %). These geographical differences can largely be explained by variations of age at sexual initiation and the average number of sexual partners in the population. The study of HPV prevalence by age group is an excellent surrogate of the sexual behavior in the community which in turn can be useful when planning preventive strategies such as best age at vaccination or screening strategies based on HPV DNA detection. As an example, one could compare the HPV DNA detection in vaginal samples in young girls in two contrasting countries in terms of cervical cancer incidence. In Tanzania, a country with very high incidence rate of cervical cancer, 36 % of girls aged ≤16 years were already HPV positive; the prevalence increased to 86 % in 19–20-year-olds and then declined to 64 % in those aged >23. In a similar period in Spain, a country with low incidence of cervical cancer, HPV picked at 29.9 % at age 19 [

11

–

13

]. After 12 months of follow-up of the young girls in Tanzania, only 27.2 % of those originally detected to harbor HPV infection remained positive, in agreement with other prospective studies [

14

].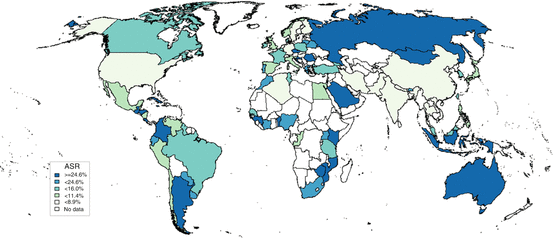 Fig. 16.3
Prevalence of HPV among women with normal cytology in the World Data updated at 15 Dec 2014 (data as of 31 Oct 2014). The samples for HPV testing come from cervical specimens (fresh/fixed biopsies or exfoliated cells. (Ref:
​www.​hpvcentre.​net
)
Contrary, infections seen in women in the middle ages are more likely to be prevalent as new infection acquisition is less prominent at these ages [
15
]. The fraction of persistent carriers of HPV in this age group is estimated in a range of 4–10 %, and these women are the true high-risk group for cervical cancer.
Interestingly, HPV in postmenopausal women shows important variations in different geographies. While worldwide HPV reaches its lowest estimates after age 50, it is common to observe in some studies a second rebound of the prevalence. It is unclear what drives this second peak, but the lack of a universal pattern seems to indicate that it must relate to either behavioral aspects (i.e., acquisition of new partners or use of local estrogens) or to a cohort effect where the overall pattern reflects the sum of several cohorts with different background HPV prevalence.
In all these age-related scenarios of HPV infection, the time lag between the peak of HPV infection and the peak of cancer incidence is around two to four decades, making the initiating infections and precursor lesions of cervical cancer an appropriate target for screening and early detection.
Unfortunately, the mechanisms related to the process to clearance or persistent infection are still unknown. Host, virological, and behavioral factors may all play a role. Probably, the best recognized factor is the higher persistence associated to HPV 16 infection compared to other HPV types [
14
]. Some screening strategies now recommend to have a distinctive follow-up of women that screen positive for HPV 16/18 as compared to other types [
16
].
2.1

Non-viral

Several cofactors have long been proposed, such as smoking and parity that determine whether a woman develops CIN3 and eventual cervical cancer. Diet and coinfection with other STI (i.e., HIV,

Chlamydia trachomatis

) are also likely to play a role. Host immunity is an obviously important but difficult-to-study etiologic factor. Condom use is partially protective from initial infection; however, its role in clearance of persistent infections is less clear [

14

].

HIV infection is probably one of the most relevant cofactors for cervical carcinogenesis [

17

,

18

]. Women infected with HIV had higher prevalence of HPV infection, persistent infection with HPV, infection with multiple types of HPV, and higher prevalence of cervical cancer precursors. In a study with South African women, HIV seroconversion almost doubled the HPV prevalence after seroconversion and showed increased risk of low-grade cytological abnormalities compared with HIV-negative women [

19

]. However, data on 241 HIV-positive women with ICC, mainly from sub-Saharan Africa, suggest that the combined prevalence of HPV16 and/or 18 is 68 %, i.e., not different from the prevalence found in HIV-negative women with the same disease in the same region.
3

HPV and Cervical Cancer
4

HPV and Vulvar, Vaginal, Anal, and Penile Cancers

Cancer incidence rates at anogenital anatomical sites other than cervical cancer are much lower than that observed for cervical cancer. Vulvar cancer is a rare entity with age-adjusted incidence rates ranging from 0 to 4.6 per 100,000 women-year, representing about 4 % of all gynecological malignancies. It is estimated that each year, about 27,000 new cases are being diagnosed worldwide [

7

,

21

]. Lower rates are observed in Asia and Africa than in other parts of the world. Over the past few decades, the incidence rates of invasive vulvar cancer (IVC) and vulvar intraepithelial neoplasia (VIN) have both been reported to increase, particularly among younger women. However, in the United States, the increase is limited to preneoplastic lesions, and in the United Kingdom, trends are stable [

37

].

Squamous cell carcinoma (SCC) accounts for more than 90 % of the malignant tumors of the vulva. The basaloid and warty histological variants, representing about 1/3 of cases, are common in younger women and are often associated with HPV DNA detection. These tumors share many risk factors with cervical cancer. By contrast, keratinizing variants arise from chronic vulvar dermatosis, such as lichen sclerosus, are most commonly not associated with HPV and tend to occur in older women. A recent large-scale worldwide analysis using a homogeneous protocol for HPV testing reported HPV DNA positivity in 28.6 % of invasive vulvar tumors and 86.7 % in preneoplastic lesions. Positivity decreased to 25 % in vulvar carcinomas when in addition to viral DNA p16

INK4a

overexpression was also considered as a criterion for an HPV-induced cancer. HPV16 was the most common type identified representing over 75 % of all positive cases [

38

].

Vaginal cancer is also a rare malignancy, with an estimated of 13,000 new cases diagnosed worldwide in 2008 and accounting for about 2 % of all gynecologic cancers (Table

2

) [

7

]. The age-adjusted incidence rates range from 0.5 to 1.7 per 100,000 women per year. Most vaginal invasive cancer cases occur in patients older than 60 years, except for adenocarcinomas, which occur in younger ages [

37

]. Like in vulvar cancers, the SCC is the most frequently diagnosed histological type (80–90 %), followed by adenocarcinomas. As for cervical cancer, squamous cell vaginal cancer is preceded by premalignant lesions or vaginal intraepithelial neoplasia (VAIN).

Table 16.2

Anogenital cancers associated with HPV infection and with HPV 16 and 18 types
















Contribution of HPV (%)






Number of cancers







Site






Attributable to HPV (%)






Attributable to HPV 16/18 (%)






Total






Attributable to HPV






Attributable to HPV 16/18








Cervix






99






70






530,000






530,000






371,000







Vulva






43






37






27,000






12,000






10,000







Vagina






70






61






13,000






9000






8000







Anus (female)






88






79






15,000






13,000






12,000







Anus (male)






12,000






11,000






9000







Penis






50






35






22,000






11,000

Premium Wordpress Themes by UFO Themes

WordPress theme by UFO themes