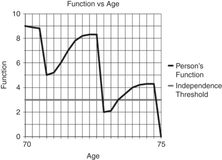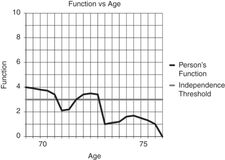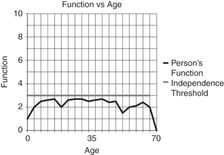 Rehabilitation medicine physicians (physiatrists), geriatricians, and others caring for the elderly often find that there may be no perfect treatment for a disease or functional impairment that comes with aging. Rather, a compensatory mechanism must be found to help restore function. A simple example would be a hearing aid for presbycusis, which does not completely restore hearing but aids the elder in day-to-day interactions. More serious impairments, such as spastic hemiparesis from a stroke, have no simple restorative device and will have profound effects on the person's function, psychological state, social role, and relationships. The rehabilitation of this individual will therefore be a complex process that will require using a broader biopsychosocial model of medicine.
Impairment, activity, and participation
The World Health Organization provides a contextual framework through the terms "impairment," "activity," and "participation" to understand how the loss of a body function affects a person's ability to care for him- or herself and fulfill a role in society (Table 44.1).[3] The terms "activity" and "participation" have replaced the older terms "disability" and "handicap," respectively.
| Term | Definition | Example |
| --- | --- | --- |
| Impairment | Loss of body part or function | Broken hip from a fall |
| Activity (disability) | Loss of ability to perform an activity | Inability to walk and perform basic self-care |
| Participation (handicap) | Loss of ability to participate in a life situation | Unable to live independently at home |
A person suffering from a hip fracture from a fall provides an excellent example of how to apply our understanding of the impairment, activity, and participation model as a framework for the rehabilitation process. First, the fracture must be fixed and direct medical consequences of surgery addressed. Second, skilled physical and occupational therapy is employed to improve the activities of mobility and self-care. Lastly, consideration of the person's motivation, pre-fall and post-surgery functional status, home environment, and caregiver support will determine whether the patient may recover at home or in a short-term rehabilitation facility. Ideally, with successful rehabilitation, the patient may regain full participation in life and return to independent living.
The functional assessment
A physician or practitioner leading the rehabilitation efforts of an elder must first assess and optimize the treatment of any medical problem that may act as a barrier to rehabilitation. For example, cognitive impairments from delirium, dementia, or depression may retard the participation in mobility training and the relearning of self-care skills. Poor cardiac or pulmonary status will reduce endurance and tolerance to therapy. Arthritic joint pain may limit range of joint motion and weight-bearing ability. Other complications of immobility, including pressure ulcers, venous thromboembolism, constipation, urinary incontinence, and disuse myopathy need to be prevented or addressed, as they can limit progress toward functional independence. Once the geriatric medical evaluation has been completed, the rehabilitation practitioner can focus on specific components of the geriatric assessment related to function and rehabilitation potential.
Rehabilitation settings
Geriatric assistive devices
Practitioners often order assistive devices for an elderly person to enhance safety with mobility or independence with self-care. Each device has the potential to help, but its use comes at an increased financial and energy cost. Improper or ill-fitted equipment can also pose a safety hazard that promotes a fall. A practitioner must know the potential benefits and risks of a piece of equipment and seek the assistance of a therapist who can help properly fit the device and train the elder on proper use.
Canes provide an extra point of contact with the ground, adding stability and tactile information about the ground with walking.[23] A simple hook cane is useful for improving walking balance and proprioception, but it can be unstable as the force placed on the handle is not directly over the point of ground contact. A cane with an off-set handle places the handle's center of gravity directly over the ground contact point, allowing more stable weight bearing. No more than 15% of body weight should be placed through a cane. The cane should be fitted so that the top of the handle comes to about the wrist crease with the elbow flexed to about 15–20 degrees when holding the cane.[23] To off-load a painful lower extremity joint, the cane should be held by the contralateral hand and advanced with the painful limb. Canes can come with foot attachments with three or four points of contact, increasing the cane's stability, but at the cost of more weight, less natural gait pattern, and potential difficulty with stairs.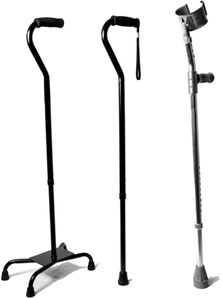 Axillary crutches are rarely used in the geriatric population, as they are difficult to handle, inherently unstable, and may cause axillary nerve compression if improperly used. Forearm or Lofstrand crutches have a cuff around the proximal forearm that allows hands to be free without dropping the crutch. They are easier to maneuver than axillary crutches and are often used for gait training after joint replacement surgery.[24]
Walkers provide a large base of support that can assist in walking stability. With the use of both upper extremities, a walker can help off-load a lower extremity. The disadvantages of walkers are that they can be difficult to maneuver (especially with stairs), promote poor back posture, and decrease arm swing.[25] Standard walkers with no wheels are very stable but require picking up to move forward, which slows down gait and requires significant upper body strength. They may be helpful for people after lower extremity surgery with weight-bearing restrictions or for people with cerebellar ataxia.[25] More commonly, elders use two-wheeled walkers or four-wheeled "rollator" type walkers (Figure 44.7). Two-wheeled walkers maintain a more normal gait pattern compared to standard walkers and can still be used for weight bearing. Rollators may be too easily moved to prevent a fall and therefore cannot be used for significant weight bearing. Rollators are well suited to help elders who need frequent rest breaks or use oxygen, as they often have fold-down seats or baskets to carry oxygen or other personal items.[25]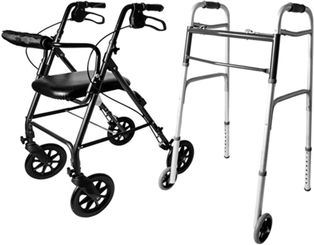 A manual wheelchair can be used by an elderly person if she is unable or unsafe to walk, or it can be used to help a caregiver transport a patient. A wheelchair needs to be carefully fitted to the patient by a therapist or wheelchair vendor to maximize its functional utility. Some considerations may include selecting: the proper seat height to allow propulsion with feet along with hands, elevating foot rests for comfort or edema control, detachable arm rest for slide board transfers, specialized seat cushion to prevent pressure ulcers, customized seat back to compensate for postural deformities, and lightweight design to reduce work to manually propel the chair or to lift the wheelchair for transport.[26]
Elders with severe weakness may require the assistance of a power-operated mobility device (Figure 44.8). A powered wheelchair's benefit of enhanced longer-range mobility at home and in the community must be balanced against the risk of worsening weakness, balance, and endurance from muscle disuse. Motorized systems are costly, potentially difficult to transport, and require extensive documentation for Medicare payment approval. Powered scooters can be a less costly alternative that may be lighter and easier to disassemble/transport, but they have a wider turning radius and fewer seating customization possibilities as compared to powered wheelchairs. Scooters may be difficult to transfer into and cannot accommodate changes that come with progressive functional decline, such as those encountered in patients with multiple sclerosis or amyotropic lateral sclerosis. All powered mobility requires intact cognitive faculties and "behind the wheel" testing and training to ensure safe use.[26]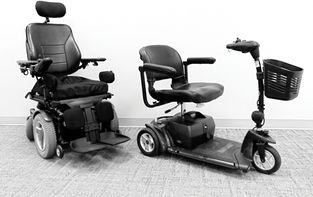 An assortment of aids to help the elderly with self-care activities can be prescribed, usually with the assistance of an occupational therapist. These include simple devices, such as mechanical "reachers" to pick up objects, dressing hooks to pull up pants, tub benches for safer bathing, and raised commodes to help with toilet transfers (Figure 44.9). For some patients with upper extremity hemiparesis, advanced rehabilitation centers are using more complex mechanical devices. One example is the Myopro™ myoelectric upper arm orthosis, which is a battery-powered arm brace that augments weak elbow flexor and/or extensor muscles to assist in such activities as eating, grooming, and picking up objects (Figure 44.10). Other centers are exploring ways to regenerate organs, muscles, and nerves to restore movement and vital functions. Despite our technological advances, we are many years away from being able to replace the most valuable and versatile aid of all: a human caregiver.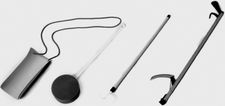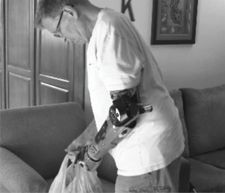 Photo courtesy of Myomo Corporation.
Rehabilitation of common geriatric problems
Stroke
With over 795,000 Americans experiencing a stroke each year, stroke has become the leading cause of long-term disability.[27] Unfortunately, despite procedural and pharmaceutical improvement in the treatment of stroke, 40% of stroke patients are left with moderate functional impairment and 15%–30% with severe disability.[28] The most common impairments after a stroke include motor weakness, sensory deficits, and problems with speech, language, cognition, swallowing, and vision. Spontaneous neurological recovery mostly occurs within the first three months post-stroke, with the most rapid functional recovery occurring in the first 30 days. Usually, there is very little functional motor recovery after six months post-stroke, but swallowing, speech, and sensory dysfunction may gradually improve over a longer period of time.[29] Some poor prognostic signs include no recovery in the first three to four weeks after a stroke, flaccid paralysis at four weeks post-stroke, severe neurological neglect, severe cognitive deficits, and advanced age.[28] Older stroke survivors may have a poorer stroke recovery prognosis given their increased likelihood of comorbid medical conditions and prior strokes.[30] Units specialized in organized stroke care and rehabilitation provide better patient outcomes for stroke patients.[31] Compared to general wards, these stroke units have demonstrated reduced mortality, improved recovery of mobility and self-care skills, and a greater likelihood of patients being able to return home. These advantages have been found to extend to stroke patients over the age of 75.[32]
A stroke resulting in significant impairments requires an interdisciplinary team for successful rehabilitation. Consider the example of a 70-year-old man with a history of atrial fibrillation who suffers a large right middle cerebral artery embolic stroke resulting in left spastic hemiplegia, hemianesthesia, hemianopsia, neglect, aprosody, dysphagia, and uninhibited neurogenic bladder. The patient has undergone all appropriate testing and lab work, has been initiated on appropriate secondary stroke prevention, and has avoided complications of immobility. A rehabilitation physician or physiatrist performs a medical and functional assessment of the patient and formulates a rehabilitation plan, which would need to include physical therapy, occupational therapy, speech therapy, nursing, recreational therapy, orthotics, and social case management. Early in the process, the patient's and family's needs and functional goals are explored. This aids in setting appropriate expectations, motivates and engages the patient, and results in improved outcomes.[33]
Motor recovery in hemiplegic stroke progresses in phases.[34, 35] Initially, there is flaccid paralysis and areflexia. Neurologic recovery may be heralded by return of deep tendon reflexes, increased tone, and spasticity. Early voluntary movement may then return in uncoordinated "synergistic" patterns where entire groups of extensor or flexor muscles across multiple joints of a limb co-contract upon initiation of movement. Fortunate hemiplegics may progress to regain functional control of individual muscles and return to normal tone, often in a proximal to distal manner.
Traditional rehabilitation therapies attempt to enhance natural motor recovery and control using physical sensory and motor stimulation, with considerable controversy on whether to promote or suppress synergisms. Rehabilitation also now includes more task-oriented therapy where rehabilitation is focused on acquisition of skills for performance of meaningful and relevant tasks. Programs aim to be challenging, progressive, and optimally adapted to the patient's capabilities and environment, and invoke active participation to prevent learned disuse.[33] An example of this is constraint-induced movement therapy (CIMT), a technique in which a hemiparetic patient uses her weak limb while her strong, unaffected limb is constrained by wearing a mitt. CIMT has been shown to promote cortical reorganization and motor recovery.[35] A practiced form of gait therapy for hemiplegia is body-weight-supported treadmill training (BWSTT), which involves suspending the patient over a treadmill with the therapist assisting in leg movement through the gait cycle (Figure 44.11). BWSTT has shown superior effectiveness over traditional gait training, but requires specialized equipment and significant effort from a therapist moving the paretic leg.[36] Other interventions under study that may prove helpful in enhancing recovery include robotic-assisted motor retraining,[37] functional electrical stimulation,[38] use of neurostimulant medications that augment norepinephrine,[39] and noninvasive brain stimulation using magnetic fields or direct transcranial current to activate dormant brain tissue.[40]