Pathologic fractures
Metastatic disease
The skeleton is the third most common site of metastatic disease. The incidence of bony involvement in patients with a known malignancy is reported to be between 12% and 70%.[31–33] Common primary malignancies that metastasize to the skeleton are lung, breast, renal, thyroid, and brain. Furthermore, primary malignancies and dyscrasias may involve the skeleton, such as lymphoma, myeloma, and chondrosarcoma. The proximal femur is the most common location of pathologic fracture and is involved in over 50% of cases. This is due to the significant mechanical stresses that occur across the hip joint and proximal femur during ambulation.[34]
Treatments are, again, directed at early patient mobilization. Surgical treatment is the standard of care in treatment of neoplastic fractures, especially those of the femur.[35] The goals are to restore function, alleviate pain, facilitate nursing care, decrease hospital stays, and improve patient quality of life. Surgical contraindications are few but may include obtunded mental status, inability to tolerate the operative procedure, and life expectancy less than one or two months.
Atypical fractures of the femur associated with bisphosphonate use
Bisphosphonate treatment is steadily growing in the elderly population. As osteoporosis screening is promoted widely in the lay media, and patients live longer, bisphosphonate use is increasing. With this increasing prevalence have emerged reports of atypical fractures in the metadiaphysis of the femur that are associated with bisphosphonate use.[36] Many patients report prodromal thigh pain. Occasionally, the thigh pain prompts radiographic evaluation before complete fracture occurs (Figure 34.2A).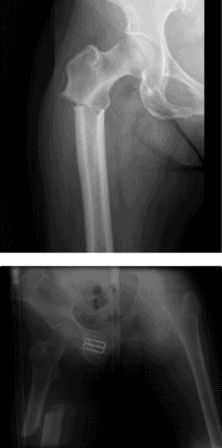 Investigation of the histology and biomarkers present in the deranged tissue has given rise to the theory that these stem from stress fractures in which bisphosphonate use impairs healing by suppressing bone turnover.[37, 38] In the patient on chronic bisphosphonate treatment, complaints of thigh pain should prompt a radiographic evaluation.
The constellation of cortical thickening, transverse fracture pattern, and a medial spike when the fracture extends through the medial cortex, in the context of a low-energy insult, is the characteristic radiographic presentation (Figure 34.2B).[39] If radiographs are normal but pain persists, a magnetic resonance imaging (MRI) should be performed.[40]
In patients with complete or impending fracture, even those that are nondisplaced, operative treatment is strongly advised to avoid the complications associated with prolonged bed rest.[41, 42] Furthermore, surveillance of the contralateral limb should be performed in these patients with a low threshold for prophylactic treatment, if findings are present,[39] in order to prevent progression and reduce total hospital admission time.[43]
Preoperative considerations
Absolute indications for operative fracture treatment are open fractures, compartment syndrome, and neurovascular compromise. Relative surgical indications include displaced intra-articular fractures in which acceptable reduction and alignment cannot be maintained and fractures that require stabilization in order to mobilize the patient out of bed. Fracture management in the elderly must take into consideration all of the injury factors, patient factors, and special considerations previously described. All aspects must be considered to develop an individualized plan of care.
Timing of surgery in the elderly patient is controversial. Generally, surgery should be performed when comorbid medical conditions have been optimized. Retrospective analayses have offered equivocal assessments on the relationship between timing and morbidity.[44, 45] A prospective study from our institution of 367 hip fracture patients demonstrated that surgical delay of more than two days from hospital admission doubled the risk of patient death at one year when age, sex, and number of comorbidities was controlled.[46]
No significant difference has been demonstrated in survival rates in patients undergoing operative treatment of hip fractures with either regional or general anesthetics.[47, 48] There has been demonstrated a reduced incidence of thromboembolic events (DVT, pulmonary embolus) after use of regional anesthesia.[49] Because pulmonary embolism is a significant cause of morbidity and mortality in the geriatric patient, regional anesthesia is preferable when appropriate.
Implant choice should reflect the surgical goal: to achieve a stable fracture construct with anatomic or near anatomic alignment and/or reduction of articular surfaces to allow early mobilization of the patient and range of motion of the affected joint. Fracture impaction restores structural continuity, allows for force transmission across the fracture segment, and decreases the overall forces on the implant, all of which improve outcome and healing potential.
Intramedullary devices are the implant of choice for fractures in osteopenic bone when the location and fracture pattern are amenable. Placement of intramedullary implants is closer to the mechanical axis of the bone; thus, they act as a load-sharing device. Plates, which are placed directly on the bone, are further from the mechanical axis and act as load-bearing devices.
Ankle fractures
The ankle joint is a modified hinge joint consisting of the lateral malleolus (tuberosity on the distal fibula), the medial malleolus (tuberosity on the distal tibia), the plafond (central articular surface of the distal tibia), and the talus. Binding these osseous structures are the lateral collateral ligament, the deltoid ligament, and the tibiofibular syndesmosis. The lateral collateral ligament is composed of three structures: the anterior talofibular ligment, the calcaneofibular ligmament, and the posterior tibiofibular ligament. The deltoid ligament consists of an anterior, superficial portion that attaches to the navicular, sustentaculum tali, and the talus, while the stronger, deeper, posterior portion originates on the posterior colliculus of the medial malleolus and inserts on the medial surface of the talus.
The clinical examination of a patient with a suspected ankle injury should include palpation of the abovementioned osseous and ligamentous structures. Swelling and ecchymoses should be noted. Weight-bearing ability must be determined (patients are rarely able to bear weight on an unstable fracture). A neurovascular exam should be performed, ensuring that ankle dorsi- and plantarflexion are intact, as is great toe flexion and extension. Sensation should be tested over the dorsum of the foot, first web space, medial and lateral edges of the foot, and the plantar surface.
The decision to evaluate an ankle radiographically after injury should be made using the Ottawa Ankle Rules. Only patients with tenderness over the inferior or posterior pole of either malleolus (defined as the distal 6 cm for these guidelines) and the inability to take four steps independently (even if limping) should have x-rays.[83] Radiographic examination should include three views of the ankle: an antero-posterior view, a mortise view (20 degree internal rotation oblique), and a lateral view. Ankle fractures can include isolated lateral malleolus/distal fibula fractures, isolated medial malleolus fractures, fractures of both malleoli (bimalleoloar), or both malleoli and the posterior portion of the tibial plafond (trimalleolar). Isolated fractures of the lateral malleolus should be evaluated with stress views to exclude the presence of a medial soft tissue injury that will lead to ankle instability.[84]
The goal of treatment of ankle fractures in elderly patients is to restore the normal tibiotalar relationship while maintaining a congruous joint surface. Stable injuries, such as isolated lateral malleolus fractures without medial disruption, should be rested in the acute post-injury period with gradual return to weight-bearing as tolerated with the use of a brace or fracture boot.
Bi-malleolar injuries (including their equivalent lateral malleolus fractures combined with medial soft tissue disruption) and fractures associated with talar displacement and joint incongruity are unstable and require operative fixation. Even slight talar incongruity can lead to early post-traumatic arthritis.[85] The primary goal of operative treatment of an elderly patient with an ankle fracture is to obtain or maintain an anatomic relationship of the tibia, fibula, and talus, and thereby joint congruity.
The timing of surgery depends largely on the condition of the soft tissue envelope. Ankle fractures and fracture-dislocations can be associated with significant swelling and the development of fracture blisters. When present, operative treatment should be avoided because of the risk of soft tissue sloughing following the surgical procedure. The return of skin wrinkles about the ankle herald adequate subsidence of swelling. Studies have shown that operative treatment restores anatomic relationships and stability, as well as improving function and pain scores over time.[86, 87] Patients with unstable injuries should remain non–weight bearing until bony union is achieved and soft tissue supporting structures have had the chance to heal.
Proximal humerus fractures
Proximal humerus fractures are common in the elderly population. The proximal humerus is the third most common site of fracture and often occurs as a result of a low energy mechanism, such as a fall from standing position.
The current system used to classify fractures of the proximal humerus fractures was first described by Neer.[88, 89] This classification divides the proximal humerus into four anatomic segments: the head, the shaft, the lesser tuberosity, and the greater tuberosity. A segment is considered independent if it is displaced 1 cm or more, or angulated 45 degrees or more from its anatomic position. Thus, proximal humerus fractures can be defined as one part (minimally displaced), or as two-, three-, or four-part fractures. This system provides treatment guidelines and predicts outcome based upon fracture type.
Minimally displaced fractures account for approximately 85% of all proximal humerus fractures. These fractures have an intact surrounding soft-tissue envelope, and all parts can be expected to move as a single unit. These injuries are treated with an initial period of immobilization in a sling, followed by range of motion exercises beginning about one week post-injury.
Two-part fractures through the surgical neck of the humerus are treated operatively with reduction and internal fixation. Fractures through the anatomic neck are rare and treated with reduction and internal fixation in younger patients and with arthroplasty in older patients. Greater tuberosity fractures are treated operatively if there is greater than 5 mm superior translation, to preserve rotator cuff function. Lesser tuberosity fractures may be treated closed unless there is a block to internal rotation.
Three- and four-part fractures are at increased risk for osteonecrosis of the humeral head and require operative management. Treatment preference – internal fixation versus prosthetic replacement – is determined by patient factors (age, activity level) and fracture factors (bone quality, comminution, and presence of dislocation). Currently, options for prosthetic replacement include hemiarthroplasty or reverse total shoulder arthroplasty (Figure 34.7).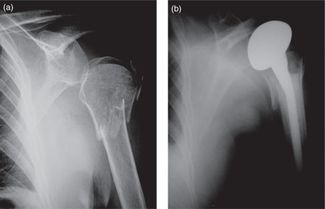 Regardless of treatment approach, elderly patients with displaced proximal humerus fractures require a prolonged, supervised physiotherapy program to optimize functional outcomes. Minimally displaced one-part and adequately reduced two-part fractures can be expected to have good functional outcomes. Poor results may be related to compromise of the rotator cuff, malunion, nonunion, or osteonecrosis. Results of prosthetic replacement are predictable for pain relief, but less consistent for functional recovery.
Distal radius fractures
Distal radius fractures occur more commonly in geriatric patients than any other. The incidence increases dramatically with age, particularly for women, and parallels that seen for fractures of the proximal humerus and proximal femur.[90] Distal radius fractures have been attributed to the presence of osteoporosis, as well as poor eyesight, impaired coordination, and decreased muscular strength.
Unstable fractures are identified by marked comminution, greater than 1 cm of shortening, loss of palmar tilt, greater than 10 degrees of dorsal tilt, and intraarticular displacment (Figure 34.8A, B). Unstable fractures account for 15%–25% of distal radius injuries in the geriatric population and are generally associated with poorer outcome.

Closed reduction and splint/cast application is the treatment of choice for most distal radius fractures in elderly patients and should be attempted initially, even for unstable fractures. If closed reduction is successful, immobilization should continue for six weeks and radiographs should be performed weekly for three to four weeks to ensure that the reduction is maintained.
If closed reduction is not successful or not able to be maintained, operative intervention may be necessary, particularly when treating an active-elderly patient with involvement of the dominant extremity. A variety of operative techniques have been described, such as external fixation, percutaneous pin fixation, and internal plate fixation. The choice is often surgeon-dependent, and each option has its own, risk–benefit profile.
Functional outcome after distal radius fracture is often favorable, though dependent on patient factors, treatment method, and quality of reduction. Minimally displaced fractures treated in cast immobilization generally do well with minimal loss of pre-injury function. Surgical fixation of displaced fractures demonstrates good to excellent results in 70%–90% of patients with comminuted, unstable fractures.[91].] However, in low-demand elderly patients, even closed treatment of displaced fractures may yield acceptable functional results despite a cosmetic deformity.[92] Ultimately, the treatment of each patient should be individualized and should be based on fracture type, as well as presence of comorbidities, pre-injury functional status, and hand dominance.