Fig. 1
Histological section of normal thyroid, magnified 20 ×. Each colloid-filled follicle is surrounded by a single layer of thyroid follicular cells
Thyroid Hormone Synthesis
The thyroid gland produces two main types of TH: thyroxine (T4) and triiodothyronine (T3). They share a nearly identical molecular structure—phenolic rings joined by an ether link and iodinated at either three (T3) or four (T4) positions (Fig.
2
). Since only T3 is biologically active, T4 is considered a prohormone and requires conversion to T3 in the peripheral tissues [
2
]. Both types of TH are synthesized in the follicular cells, a process that involves concentration of iodine, organification and coupling, and, finally, secretion or storage [
2
,
4
] (Fig.
3
).

Fig. 2
The molecular structures of thyroxine (
T4
) and triiodothyronine (
T3
)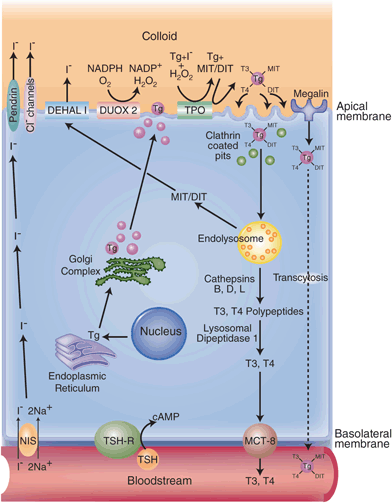 Fig. 3
The synthesis and secretion of thyroid hormone by the thyroid follicular cell. Thyroid hormone synthesis is stimulated by binding of TSH to the TSHR, which increases intracellular cAMP. Iodide enters the thyroid gland via the Na
+
/I- symporter (
NIS
). The intracellular electrochemical gradient then drives I- to the apical surface of the cell, where it exits into the follicular lumen either through pendrin or chloride channels or both. The I- is then oxidized by the enzyme thyroperoxidase (
TPO
) in the presence of hydrogen peroxide (H
2
O
2
), which is generated by dual oxidase 2 (Duox2), an NADPH oxidase. Oxidized iodide attaches to tyrosyl residues of thyroglobulin to form monoiodotyrosine (
MIT
) or diiodotyrosine (
DIT
) residues, a process also catalyzed by TPO. MIT and DIT then combine to form T3 and T4, all still incorporated within the thyroglobulin molecule. Iodinated thyroglobulin is then taken up by clathrin-coated pits on the apical surface of the follicular cell, which invaginate to form intracellular vesicles. These fuse with the endolysosomal system. MIT, DIT, T4, and T3 residues are selectively removed from the molecule. MIT and DIT residues are deiodinated by DEHAL1 and the iodide is recycled. The T3- and T4-containing polypeptides are further processed to become free T3 and T4, which are then released into the circulation via a hormone transporter, MCT8. A small proportion of iodinated thyroglobulin binds to a protein called megalin before being internalized by the thyrocyte and is transported through the cell before being released intact into the bloodstream. This process is called transcytosis.
TSH
thyroid-stimulating hormone,
TSHR
thyroid-stimulating hormone receptor,
NADPH
nicotinamide adenine dinucleotide phosphate,
MCT
monocarboxylate transporter
Iodine Metabolism
Thyroglobulin
Synthesized in the follicular cells, thyroglobulin is the most highly expressed protein in the thyroid gland [
19
]. With a dimeric molecular mass of 660 kDa, it is one of the largest proteins in the human body, and it consists of a signal peptide sequence and approximately 2750 amino acid residues [
19
,
20
]. The protein has a homogeneous structure in all vertebrates, consisting of four distinct regions: three cysteine-rich repetitive domains (Tg1, Tg2, and Tg3) and the cholinesterase-like (ChEL) domain (C-terminus of the molecule), which is highly homologous to acetylcholine [
19
,
21
,
22
]. Production of thyroglobulin is regulated by TSH and several transcription factors, including thyroid transcription factor 1 (TTF-1), TTF-2, and paired box gene 8 (Pax-8) [
19
]. As the nascent thyroglobulin polypeptide chains emerge from the polyribosomes, they enter the cytosolic side of the endoplasmic reticulum, where each region undergoes an independent oxidative folding process [
19
,
22
,
23
]. All the cysteine residues ultimately become incorporated into disulfide bonds, although the number of intra/interchain bonds creates significant potential for errant folding [
22
,
23
]. Thyroglobulin molecules also undergo glycosylation and dimerization [
19
,
21
]. Several molecular chaperones, including BiP, GRP94, GRP170, ERp29, ERp72, and calnexin, are involved in the maturation of thyroglobulin and act as intracellular quality control to ensure that only properly folded and glycosylated thyroglobulin molecules are ultimately released [
8
,
19
,
20
]. The process is relatively lengthy, with a half-time of 90–120 min for newly synthesized thyroglobulin to arrive at the Golgi complex [
22
]. There it is incorporated into exocytic vesicles that migrate to the apical membrane of the follicular cell, where the organification and coupling process takes place [
8
,
19
].
Organification and Coupling
Although organification and coupling are often discussed as discrete steps, both reactions are catalyzed by TPO and in fact occur simultaneously [
13
]. The process by which oxidized iodide attaches to tyrosyl residues of thyroglobulin is referred to as organification. The reaction leads to the formation of monoiodotyrosine (MIT) or diiodotyrosine (DIT) residues, still located within the thyroglobulin molecule [
8
,
13
]. Of the 132–140 tyrosyl residues in each molecule of dimerized human thyroglobulin (the reported number varies because of refinements in complementary DNA (cDNA) sequencing), only a small subset are actually susceptible to iodination [
8
,
13
,
21
,
24
]. While each molecule of mature thyroglobulin contains 5–50 iodine atoms, only certain iodinated sites are ultimately involved in hormonogenesis because of their spatial orientation [
8
,
13
].
Once MIT and DIT form, the coupling reaction occurs: two DIT residues combine to form T4 or one MIT combines with one DIT to create T3 [
8
,
13
]. In this reaction, also catalyzed by TPO and mediated by H
2
O
2
, the iodinated phenyl group of a tyrosyl residue is donated to become the outer ring of the iodothyronine acceptor site [
13
]. Tyrosines 5, 2554, and 2747 are the most important acceptor sites, while tyrosines 130, 847, and 1448 are the dominant donors [
13
,
24
]. About one-third of T4 is created by the acceptor–donor pair of tyrosine 5 and tyrosine 130 [
8
]. After the coupling reaction, the newly formed T3 and T4 are still incorporated within the thyroglobulin molecule [
8
]. Under normal conditions (normal iodine supply and normal thyroid function), the average thyroglobulin molecule contains 2.5 residues of T4 residues, 0.7 of T3, 4.5 of DIT, and 5 of MIT [
8
].
Secretion and Storage
Peripheral Actions of Thyroid Hormone