Chapter 66 Disorders of Coagulation in the Neonate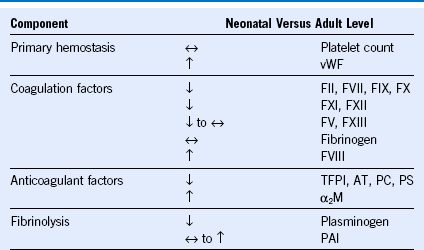 α2M, α2-Macroglobulin; AT, antithrombin; F, factor; PAI, plasminogen activator inhibitor; PC, protein C; PS, protein S; TFPI, tissue factor pathway inhibitor; vWF, von Willebrand factor.
Modified from Guzzetta NA, Miller BE: Principles of hemostasis in children: Models and maturation. Paediatr Anaesth 21:3, 2011.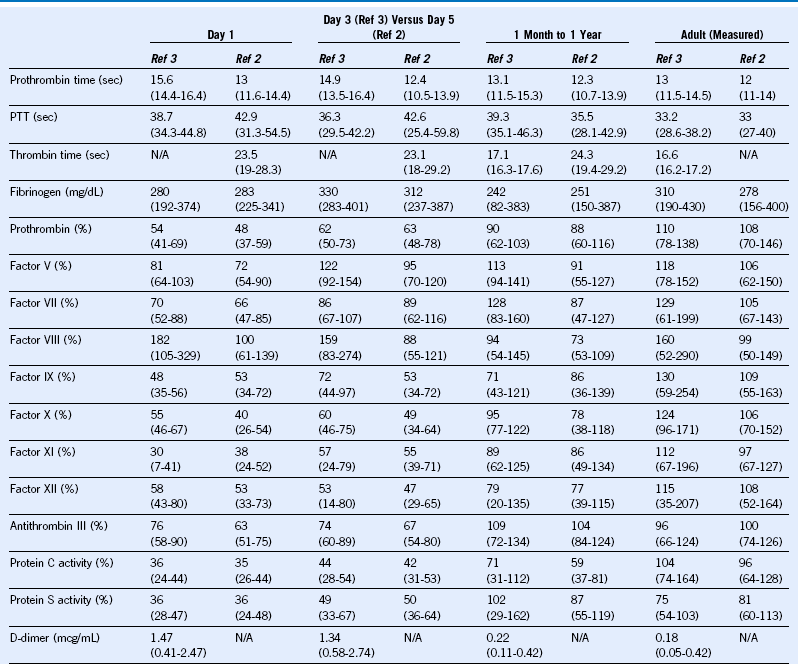 N/A, Not available; PTT, partial thromboplastin time.
Modified from Monagle P, Barnes C, Ignjatovic V, et al: Developmental haemostasis: Impact for clinical haemostasis laboratories. Thromb Haemost 95:362, 2006; and Andrew M, Paes B, Milner R, et al: Development of the human coagulation system in the full-term infant. Blood 70:165, 1987 (range inferred from published statistical documentation).

CAMT, Congenital amegakaryocytic thrombocytopenia; CMV, cytomegalovirus; DIC, disseminated intravascular coagulation; GBS, group B Streptococcus; HIV, human immunodeficiency virus; ITP, idiopathic thrombocytopenic purpura; IUGR, intrauterine growth restriction; NEC, necrotizing enterocolitis; PIH, pregnancy-induced hypertension; SLE, systemic lupus erythematosus, TAR, thrombocytopenia with absent radii. The most frequently occurring conditions are in bold.
Modified from Roberts I, Stanworth S, Murray NA: Thrombocytopenia in the neonate. Blood Rev 22:173, 2008.