Fig. 2.1
Magnetic resonance imaging of a penile carcinoma of the glans with the proximal extent of tumor seen on the penile shaft
There is recent evidence to suggest that penile Doppler ultrasound (US) may be equivalent to MRI in the preoperative diagnostic evaluation of patients with penile SCC (Fig.
2.2
) [
21
,
22
]. In a prospective study of 200 patients presenting with a clinical diagnosis of penile SCC, penile Doppler US versus MRI accuracy in predicting primary tumor stage after surgery was 96.5 % versus 90.5 %, precision was 92.6 % versus 96 %, sensitivity was 96.9 % versus 73.8 %, and specificity was 96.2 % versus 98.5 %, respectively [
23
]. The authors concluded, therefore, that penile Doppler US had a statistically similar outcome in detecting tumor infiltration of the corpora cavernosa compared to MRI, and it could be used as a less expensive tool to drive surgical strategy in patient with a diagnosis of penile SCC.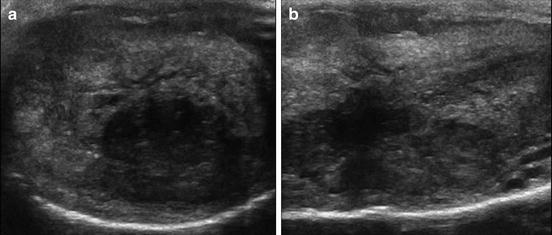 Fig. 2.2
Heterogeneous penile tumor visualized transversely (
a
) and longitudinally (
b
) on penile Doppler ultrasound
Evaluation and Management of Loco-Regional Metastatic Lymphatic Spread
Penile Cancer Biomarkers
Advancement in the techniques for molecular genomics has made biomarkers an increasingly important aspect of a clinician's diagnostic and predictive tools with regard to penile tumor metastasis and disease recurrence. A list of several biomarkers studied in penile carcinoma is summarized in Table
2.1
.
Table 2.1
Biomarkers in penile cancer
| Biomarkers | Number of studies | Function | Prognosis |
| --- | --- | --- | --- |
| p53 | 6 | Tumor suppressor gene | Expression indicated higher risk of LN metastasis, disease progression, and worse DSS |
| p16INK4a | 5 | Surrogate marker for high-risk HPV infection | Positivity was associated with less tumor invasion, lower risk of disease recurrence, and possibly better survival |
| Ki-67 | 4 | Marker for tumor cell proliferation in the cell cycle | Labeling correlated with higher tumor grade, advanced local tumor stage, a greater risk of nodal metastasis, and clinical disease progression |
| PCNA | 2 | Marker of cell proliferation essential for replication | Expression was associated with presence of nodal metastasis |
| CRP | 3 | Pro-inflammatory marker | Elevated plasma levels found more often in patients with advanced tumor stage, positive nodal disease, and worse DSS |
| Cyclin D1 | 2 | Regulates progression of cells through G1-phase of the cell cycle | No clear prognostic value; implicated in tumor differentiation |
| E-cadherin | 1 | Maintains cellular adhesion and signal transduction | Immunoreactivity was associated with a greater risk of LN metastasis |
| MMP-2 and MMP-9 | 1 | Degrades the basement membrane of a cell | Immunoreactivity was associated with a greater risk of disease recurrence |
| Fox-P3 | 1 | Oversees the development and function of regulatory T cells | Increased levels correlated to a lower inflammatory infiltrate worse OS |
| ARID1A | 1 | Involved in chromatin remodeling | Higher expression was associated with a higher histologic grade |
Despite initial promising results, the evidence supporting the routine use of biomarkers in the diagnosis and management of penile cancer is still not well established enough to consider their inclusion in cancer guidelines [
37
]. Data are still controversial regarding the ability of biomarkers to predict the presence of occult LN metastasis. There is a need for large prospective studies to ascertain the clinical utility of biomarkers, but several candidates have been shown to be potential candidates for future investigation.
p53
p16INK4a
Ki-67
Ki-67 is a nuclear matrix protein expressed in the cell cycle phases that is a marker for tumor cell proliferation [
52
]. Its expression can be detected by immunohistochemistry. Its prognostic value in penile carcinoma is still considered controversial.