Fig. 4.1
Endoscopic image of short-segment Barrett's esophagus without nodularity. Prague C1M2
Several types of columnar epithelium can be found in the biopsy samples of suspected BE including gastric-fundic type, cardiac type, and intestinal type [
10
]. Gastric-fundic type is typically considered as part of a hiatal hernia and not thought to be associated with an increased risk of malignancy. There is controversy regarding whether a pathologic diagnosis of BE requires the presence of goblet cells within the BE segment (i.e., specialized intestinal metaplasia). In the USA, specialized intestinal metaplasia is considered the hallmark of BE as this is clearly associated with increased risk of malignancy [
5
,
6
]. It is less clear whether there is a risk of malignancy associated with cardiac tissue that extends above the level of the GE junction. The most recent British guidelines propose cardiac-type epithelium be designated BE. These guidelines raise the concern that a lack of goblet cells may reflect sampling error and that non-goblet cell specialized intestinal metaplastic (SIM) epithelium may contain molecular features typically observed in goblet cell epithelium [
7
]. US societies, however, underscore the lack of definitive data supporting the concept that non-goblet cell SIM epithelium carries an increased risk of progressing to EAC, and note both the financial cost and negative emotional impact of placing patients with non-goblet cell BE under surveillance for a condition of unclear significance [
5
,
11
–
13
].
BE has historically been divided into long-segment BE (>3 cm) and short-segment BE (<3 cm), which has been used to stratify BE patients into high risk (long-segment BE) and low risk (short-segment BE) (Fig.
4.2a–d
). While increasing length of BE is clearly associated with increased risk for malignant progression, there is a lack of consensus regarding what differentiates a short-segment Barrett's esophagus (SSBE) from an irregular squamocolumnar junction. The identification of SSBE is clinically important because of a small increased risk of EAC even in people with SSBE [
14
]. In addition, there are no current guidelines regarding the number of biopsies required to establish an initial diagnosis of BE. Due to the very low risk of malignancy associated with SSBE and ongoing debate regarding the value of current BE surveillance strategies, it is controversial whether an irregular z-line should be biopsied with the intent of making a diagnosis of BE [
7
].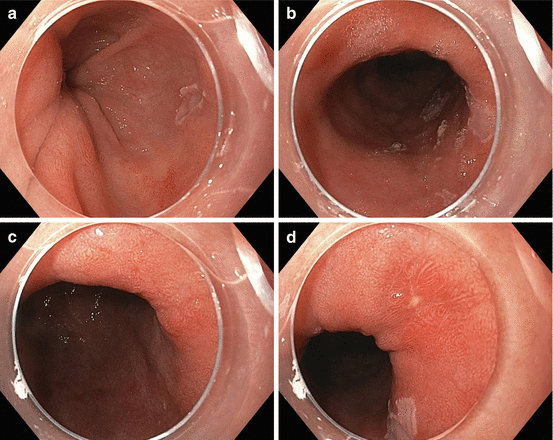 Fig. 4.2
(
a
–
d
) Endoscopic images of long-segment Barrett's esophagus with low-grade dysplasia. Panels A–D show images from different individuals and reveal the range of appearance by endoscopy
Natural History and Risk Factors
Natural History
Norman Barrett was the first to describe the clinical finding of a columnar-lined epithelium that extended proximal to the gastroesophageal (GE) junction. The condition that bears his name is now recognized as the replacement of the normal esophageal squamous mucosa with a columnar-lined metaplastic epithelium [
15
]. Metaplasia is thought to arise as a response to esophageal reflux of hydrochloric acid and bile acids that damage the esophageal mucosa [
16
]. The subsequent progression of BE to dysplasia and eventually EAC is felt to involve the accumulation of a series of genetic and epigenetic alterations that are also likely driven in part by genotoxic damage secondary to reflux of gastric fluids [
17
]. As with other premalignant conditions such as colonic tubular adenomas, Barrett's esophagus is asymptomatic and clinically important only because of its malignant potential. As an identifiable precursor to cancer, BE is a logical target for screening and surveillance programs with the end goal of decreasing the morbidity and mortality associated with esophageal adenocarcinoma (EAC) through the prevention or detection and treatment of early stage EAC. Unfortunately the utility of these programs is hindered by our incomplete understanding of the epidemiology, biology, and natural history of BE and EAC. Although it is thought to take many years for BE to transform into EAC, it is not clear how long the BE to EAC sequence takes. Nonetheless, data from patients in surveillance programs suggest that when high-grade dysplasia arises, there is often concurrent EAC, or the likelihood of progression to EAC is high over the next 6 months to 2 years [
11
,
18
–
20
]. It also appears unlikely that BE spontaneously regresses once it has formed.
Risk Factors for BE and EAC
Treatment of Barrett's Esophagus
The treatment of BE is primarily focused on the prevention of BE progressing to EAC. Until recently, this meant that the focus of BE treatment was on managing risk factors for progression, such as controlling acid reflux, and on endoscopic surveillance to detect HGD or carcinoma, at which point patients were referred for surgical resection of the esophagus. Despite improvements in minimally invasive surgical techniques, the morbidity and mortality of esophagectomy remain high (2–5 %) even at expert centers [
78
]. This high mortality prompted the development of endoscopic treatments for BE. These modalities include ablative techniques such as radiofrequency ablation (RFA), cryotherapy, photodynamic therapy (PDT), and argon plasma coagulation (APC) and resective therapies such as endoscopic mucosal resection. While surgical management remains the standard of care for patients with esophageal cancer that has progressed beyond the level of IMC, endoscopic treatments are increasingly used and accepted for patients with dysplastic BE [
5
–
7
].
Non-endoscopic Management of BE
Lifestyle Modifications
The only currently recommended non-endoscopic management strategy for BE is the avoidance of risk factors known to be associated with the risk of BE progression to EAC. Based on the risk factors described above, it is intuitive, albeit poorly studied, that avoiding smoking, decreasing central adiposity, and consuming a diet high in fruits and vegetables should be recommended to all patients with a diagnosis of BE. Less intuitive is the recommendation that patients with BE have an assessment of their cardiovascular function and/or cardiovascular disease risk factors. In a population-based study from the UK, individuals diagnosed with BE had an increased risk of death from esophageal cancer; however, the largest single cause of death was ischemic heart disease. BE patients had a fourfold increased risk of dying from ischemic heart disease versus esophageal cancer [
54
]. This raises the interesting question of whether patients diagnosed with BE would be better served by first optimizing their cardiovascular health before embarking on extensive screening and surveillance programs for their BE.
Chemoprevention
There is no proven agent that is effective for primary or secondary chemoprophylaxis for Barrett's esophagus. Even though there is considerable data in preclinical models that reflux of acid/bile is a central mechanism for BE formation and progression, there remains no evidence that patients with asymptomatic reflux have a mortality benefit from the use of proton-pump inhibitors (PPIs) or histamine 2 receptor inhibitors [
5
,
7
]. Nonetheless, the use of PPI medications irrespective of symptomatic reflux has been recommended by some authorities [
79
] although most society position statements do not promote PPI use in the absence of symptomatic reflux. There is relatively strong support for the use of PPIs in BE patients with symptomatic GERD or those patients undergoing endoscopic eradication therapy [
5
,
7
].
Premium Wordpress Themes by UFO Themes
WordPress theme by UFO themes