Autoimmunity and Autoimmune Diseases
Ken T. Coppieters
Matthias G. von Herrath
Dirk Homann
INTRODUCTION
The concept of autoimmunity (ie, the phenomenon of immune reactivity directed against an organism's constituent organs, tissues, cells, and/or extracellular factors) comprises both physiologic and pathophysiologic components that attain practical relevance in the context of autoimmune diseases, a collection of more than 80 disorders with circumscribed pathologic features that are thought to result primarily from the induction and perpetuation of aberrant immune reponses. The precise etiopathology for most human autoimmune diseases remains incompletely defined but appears to be promoted by the complex interplay of genetic predispositions, environmental insults such as viral infections and, in an acknowledgment of the many questions yet to be answered, bad luck. However, a role for immune-mediated processes and pathologies has by now been documented in at times compelling detail and provides important direction for novel and improved diagnostic, prophylactic, and therapeutic modalities. Herein, we discuss the evolution of major conceptual and practical advances and challenges in autoimmunity and autoimmune diseases in general, and consider individual autoimmune disorders regarding the contribution of genetic and environmental components, specific pathology and autoimmune features, experimental models and ongoing research efforts, as well as current and potential future therapeutics.
GENERAL CONCEPTS IN AUTOIMMUNITY
INDIVIDUAL AUTOIMMUNE DISORDERS
A comprehensive and balanced discussion of autoimmune and autoinflammatory diseases at large is well beyond the scope of this chapter. Our choice of individual diseases for this section of this chapter was guided by their relevance to human health (ie, disease prevalence and severity), recent insights into pathogenetic mechanisms, as well as the development of novel treatment modalities. Given these limitations, we extend our apologies to all those scientists and clinicians whose work on autoimmune disorders is not mentioned in our discussion.
Endocrine Autoimmune Diseases
Thyroid: Graves Disease and Hashimoto Thyroiditis
Endocrine Pancreas: Type 1 Diabetes
Introduction and Disease Description
.
While the distinct symptoms of diabetes mellitus have been known since antiquity, the underlying pathophysiologic processes were only identified in the late 19th and early 20th centuries. The proof of the involvement of the pancreas in diabetes etiology was conducted by von Mering and Minkowski,
218
who demonstrated in 1890 that extirpation of the canine pancreas results in the classic symptomatology of hyperglycemia, abnormal hunger, increased thirst, polyuria, and glycosuria. Subsequently, inflammatory changes in the endocrine pancreas (ie, the islets of Langerhans) were correlated with diabetes by Schmidt
219
in 1902; two decades later, Banting and Best
220
identified insulin as a pancreatic hormone, thereby providing the basis for insulin substitution therapy, which remains to this day the cornerstone for T1D management. In a classic 1965 paper, Gepts
221
noted the histopathologic similarity between thyroiditis and insulitis and suggested an immune basis for the disease. By 1974, the concept of T1D as an autoimmune syndrome was firmly established by the discovery of islet cell antibodies and an association between T1D and certain HLA genes.
222
,
223
,
224
Autoimmune Features
.
Today, a quarter century later, the possible autoimmune origin of T1D is understood in much greater detail. However, the lymphocytic infiltration of the islets of Langerhans
(Fig. 44.6)
and the presence of antibodies specific for β-cell antigens associated with the progressive destruction of insulin-producing β cells
225
,
226
still constitute the cardinal evidence for an autoimmune etiology. While there is a reasonably strong genetic linkage to certain HLA molecules, the disease has to be considered polygenic in nature,
130
and a significant discordance of disease among monozygotic twins suggests that environmental factors contribute to trigger and/or exacerbate the disease. Furthermore, it remains unclear which islet antigens are the
primary targets. The earliest islet cell-specifc antibodies in human individuals at risk are directed to insulin,
227
,
228
and evidence from relevant animal models and human studies points toward insulin as a primary antigenic target,
229
islet-specific glucose-6-phosphatase catalytic subunit related protein,
230
,
231
and possibly glutamic acid decarboxylase (GAD),
232
but definitive proof for a pathogenic role has only been ascertained in the NOD mouse model and not yet in humans.
233
The cellular infiltrates found in the islets contain both CD4+ and CD8+ T lymphocytes and their irreducible role in β-cell destruction has been documented in several animal models.
234
,
235
,
236
CD8+ T cells can exert direct cytotoxic effects toward MHC class I-expressing β cells, while CD4+ T cells secreting inflammatory cytokines and can provide help to CD8+ T cells as well as B cells. Ultimately, it is important to consider that β cells constitute about 60% of the islets, which in turn contribute only -2% to the pancreas mass and demonstrate, unlike many other tissues targeted in autoimmune disorders, an exquisite sensitivity to cytokines such as IL-1, TNF, and IFNs that will result in their apoptotic cell death after prolonged exposure.
94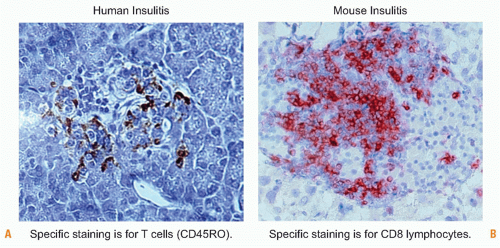 FIG. 44.6. Human and Mouse Insulitic Lesions.
Comparison of human insulitis
(Left)
, courtesy of Francesco Dotta (University La Sapienzia, Rome, Italy), and mouse insulitis
(Right)
, from a rat insulin promoter-lymphocytic choriomeningitis virus mouse 14 days postinfection with lymphocytic choriomeningitis virus (von Herrath laboratory, La Jolla Institute for Allergy and Immunology, La Jolla, CA).
The detection of islet antigen-specific antibodies remains an essential tool in identifying prediabetic subjects and monitoring the progression of subclinical and clinical disease. Procedures for autoantibody determination have been substantially refined and standardized worldwide. Emerging data from clinical studies support the notion that with progression of the prediabetic phase, generation of islet antibodies also is increased.
237
,
238
,
239
Usually, antibodies to insulin become discernible first, then to GAD, thereafter to insulinoma antigen 2. Individuals with islet antibodies to three or more distinct antigens have a greater than 90% risk of developing T1D.
136
Thus, islet antibodies are an excellent marker for disease risk. However, they appear not to play a role pathogenetically, as transfer of antibodies from mothers to children does not increase the risk for T1D, and B cells are not needed for human diabetes.
240
,
241
,
242
In this crucial respect, the NOD mouse appears to provide a paradigm that might not be applicable to human diabetes, as maternal antibodies are an essential factor for diabetes development in NOD offspring.
243
Measurements of human T-cell responses to islet antigens are not yet standardized and can vary considerably between different laboratories. One reason for this may be the source of T cells that are generally subjected to specificity analyses: blood-borne CD4+ or CD8+ T cells may not reflect the specificity distribution and frequencies of isletspecific T cells found in the target organ (ie, pancreas and its draining lymph nodes). Even the study of spleen-derived islet-specific T cells readily obtained from NOD mice and analyzed in standardized proliferation assays has shown variations between different NOD colonies.
244
Therefore, measurement of multiple effector functions (ie, cytokine production, etc.) in highly standardized assays will likely be required to assess T-cell autoreactivity on a routine basis.
245
A recent study shows that while techniques such as enzyme-linked immunosorbent spot can discriminate between patients and controls, difficulties in detection of low-frequency antigen-specific T cells probably leads to the limited reproducibility of such measurements.
246
Another complicating fact is that T-cell responses between individuals are expected to vary and depend on the HLA haplotype and individual trigger(s) that precipitate T1D. An emerging technology that may improve specificity and sensitivity is through the use of combinatorial HLA multimers loaded with multiple disease-associated epitopes.
247
A remarkable paper
248
has shown that tracking of immune responses to naturally processed peptide epitopes can discern between healthy individuals and those afflicted with T1D: Whereas the number of overall T cells reacting with the naturally
processed peptide epitopes was similar, individuals with T1D produced more IFNγ relative to IL-10, whereas the ratio was the opposite in healthy individuals.
Genetic Features and Environmental Factors
.
Recent data show that concordance rates among monozygotic twins are higher than previously thought.
249
Still, the remaining discordance and particularly the major temporal differences in clinical onset indicate that environmental factors have to act in concert with diabetes susceptibility genes to orchestrate the autoimmune destruction of β cells. The initial hope that only a few genes would contribute to disease pathogenesis and that genetic links would help to directly understand the mechanistic aspects of T1D pathogenesis has been progressively eroded. Instead, a complex network of susceptibility and resistance genes in both humans and animals (eg, the NOD mouse) has slowly taken shape. The recent publication of three GWAS has extended the list of gene associations in T1D. So far,
16
robust T1D-associated loci were discovered, some of which encompass important immunity genes (eg, IL-2, IL-2Rα [CD25], CTLA-4) or β cell-specific products (insulin), while other candidate genes do not have an apparent link to immune functions and/or β cells. The implications of this enhanced genetic characterization have so far not led to the identification of monogenic pathways that directly lead to disease. Rather, consensus is growing that disease susceptibility is the consequence of a global problem of immune regulation, with many genes involved in a variety of combinations in individual patients.
250
Many of these genes exhibit direct parallels to NOD diabetes susceptibility genes.
251
The association between particular HLA/MHC class II haplotypes and the occurrence of human diabetes has been of particular interest. The DRB1/04-DQA1/0301/B1 and DRB1/03-DQA1/0501/0201 strongly predispose to T1D, and more than 80% of patients carry either one or both alleles.
252
In contrast, other MHC class II haplotypes can protect from disease, as evidenced by the sixfold reduced risk to T1D in DRB1/15-DQA1/B1/0602-bearing individuals. Considerable evidence indicates that other genes in the MHC region likely contribute significantly to T1D risk.
128
An intriguing mechanistic hypothesis was put forth by McDevitt's observation that predisposing HLA class II alleles appear to express small neutral amino acids at position 57 of the DQ allele of Caucasoid populations, whereas an aspartic acid is found in resistant alleles at the same position. Because position 57 is part of the peptide-anchoring pocket, amino acid substitutions in this area will affect peptide binding. Indeed, the susceptibility alleles prefer different peptides, but the contribution to T1D development is not yet clear and a mechanistic link has to be established. Both central and peripheral tolerance mechanisms have been implicated but no direct proof has been obtained. It is important to realize that the human susceptibility MHC class II alleles share amino acids at position 57 with the I-A
g7
alleles expressed in the NOD mouse and are required for NOD T1D predisposition. However, as previously mentioned, polymorphisms in the MHC class II coding region alone cannot explain diabetes pathogenesis. The amount of complexity involved in the immunogenetics of T1D has been well described by Serreze
253
:
Many genes contributing to T1D may contribute to dysregulation of different biochemical steps in a common developmental or metabolic pathway. For example, sequential expression of hundreds, if not thousands, of genes would be expected in the developmental and functional maturation of a macrophage or dendritic cell from stem cell precursors. This process does not occur in a vacuum, but is contingent upon cues provided by the physical environment. In the case for APC development, the microfloral and dietary environments are crucial.
Thus, diabetes susceptibility and resistance genes contribute to disease in a polygenetic/multifactorial fashion that appears to gain in complexity as it is being unraveled. The link to environmental factors will be defined to shape gene expression and disease development. Major contributors in this respect appear to be the gut and viral infections.
With more than 400 m
2
of mucosal epithelium, the gut constitutes the largest interactive surface area of the human body connecting us with the environment and its pathogens.
150
Therefore, exposure to antigens or pathogens through the gut, mediated by the largest outpost of the immune system, the gut-associated lymphoid tissue, will strongly affect specific and general immune functions. It is intriguing that immune tolerance to the numerous foreign protein antigens found in food, as well as bacterial antigens derived from the commensal flora, is generally well maintained.
254
This may be attributable to the high levels of immunoglobulin (Ig)A and TGF-β in the gut and to the phenomenon of "oral tolerance."
255
Oral tolerance has been observed in animal models and humans and is characterized by tolerance induction to protein antigens present in the gut. It occurs via two principal mechanisms: Low amounts of antigens will induce a nonaggressive immunoregulatory response while high amounts of antigen can lead to lymphocyte anergy or deletion,
256
,
257
,
258
which is likely achieved via APC modulation. In addition, the profound immune dysregulation found in the absence of a bacterial flora in both animals and humans points to an important physiologic role that foreign antigens play in immune homeostasis in the gut.
259
Furthermore, NOD mice only exhibit high levels of autoimmunity when kept in a clean, specific pathogen-free environment; they do not develop T1D when housed under "dirty" conditions.
260
A seminal paper by Wen et al.
261
highlighted the pivotal role of the mucosal immune compartment by showing that host recognition of the digestive flora is essential in preventing T1D through engagement of a myeloid differentiation primary response gene 88-independent signaling pathway. Thus, changes in the intestinal microbiome, integrity of the mucosal barrier, infections of the gut, or certain dietary components may play a role in T1D pathogenesis.
Several reports and studies have attempted to establish a link between the introduction of cow's milk and development of T1D in young infants. This link was not observed in the German, Australian, and American baby diabetes studies but was in a Finnish epidemiologic study.
262
,
263
The Finnish study differed from most of the others by an
extended observation time involving infant as well as childhood consumption of cow's milk. Therefore, a dietary link between milk feeding and T1D can be considered unlikely but not excluded after long-term exposure to cow albumin or other milk proteins. Similarly, wheat-derived gluten and milk-derived insulin have been implicated as a cause for childhood diabetes. The evidence, however, is not convincing at this point, and no firm links have been established.
Some intriguing observations have been published more recently supporting the concept of a viral etiology for T1D. The mechanistic links between viral infections and autoimmunity can be manifold and have been discussed in detail in the introductory section of this chapter. A significant association between rotavirus infection in young infants and the first occurrence of islet autoantibodies was established by Harrison's group in Australia
264
but not in Finnish populations.
265
Rotavirus is a double-stranded RNA virus, infects the intestinal mucosa, and is a common cause for seasonal childhood diarrhea. It can polyclonally activate T and B lymphocytes, and might possibly harbor antigens that could immunologically mimic islet cell-derived self-proteins. However, it is not clear whether it infects the pancreas or islets directly. The most convincing case can be made for enteroviruses, and there is now robust evidence for a significant association with T1D.
266
Coxsackie B4 virus has been isolated from islets of a child with acute-onset T1D,
267
,
268
,
269
and Coxsackie B3 and 4 strains commonly infect the gut, pancreas, and heart.
270
They lead to profound pancreatitis if they replicate at high enough titers and might harbor a mimicry antigen (P2C protein)
226
cross-reactive on the T-cell level with a human GAD epitope. However, this evidence could not be replicated by other laboratories and is still controversial. It has become apparent, however, that Coxsackie B3 viral strains can effectively trigger
271
or prevent
142
T1D in the NOD mouse, depending on the timing of infection. Thus, diabetogenicity of a viral infection may critically depend on the preexistence of insulitis and may either act as an initiating factor or by aggravating ongoing inflammatory processes. Clinical studies have recently provided indirect support for both of these scenarios.
272
,
273
The finding that infections under certain conditions confer protection might support the "hygiene hypothesis," which suggests that infections protect from rather than enhance autoimmunity. It is still uncertain whether enteroviruses routinely infect or persist in pancreatic islets, although recent reports indicate that viral particles are found more frequently in islets of patients with T1D around the time of disease onset.
274
Similar to Coxsackie, other enteroviruses such as polio or echoviruses have been detected in the pancreas and might therefore at least have enhancing effects on ongoing islet destruction in prediabetic individuals at risk.
267
The establishment of a firm association between viral infections and T1D is difficult because the underlying mechanistic links established in several animal models allow for the virus to be cleared before autoimmunity develops (ie, in the rat insulin promoter [RIP]-LCMV model); viruses need not necessarily directly induce islet-reactive T-cell responses but can act as bystander activators and, in many cases, viral infections have been found capable of preventing autoimmunity.
Exciting new data suggest that the genetic constitution may (co-)determine whether viral infections will provoke islet autoimmunity in certain individuals. It was found that certain rare polymorphisms in the IFIH1 gene are associated with protection against T1D,
275
while others confer disease risk.
276
This gene encodes a helicase enzyme, IFIH1 (also known as MDA5), which triggers the secretion of IFNs in response to viral infection. Most, if not all, viral infections trigger the production of IFN by the host immune system. Being an IFN-response gene, IFIH1 allows the infected cell to sense the RNA genome of enteroviruses and increase IFN production. IFNs then primarily limit viral replication to prevent damage to the infected cell. They also, however, increase the visibility of the infected cell to the immune system by enhancing the expression of MHC molecules. A scenario could be envisioned where mutations leading to decreased IFIH1 activity are associated with milder responses against diabetogenic viruses and thus disease protection. Conversely, mutations leading to IFIH1 hyperactivity could induce inappropriate, exaggerated IFN responses and localized immunity against the infected β cells. Altogether, such a mechanism would explain why viruses that have presumed diabetogenic effects do not necessarily trigger diabetes in all infected individuals.
277
Animal Models
.
Because the pancreas and its draining lymphoid organs are notoriously difficult to access, many important insights about diabetes immunology have been gained from suitable animal models that continue to refine our understanding of the pathogenesis and the development of potential prophylactic and therapeutic strategies. There are a multiplicity of animal models for T1D. The most commonly employed models take advantage of natural mutations that give rise to spontaneous diabetes onset or antigen-specific induction of disease using transgenic technology. Other models make use of β-cell damage initiated by treatment with specific chemicals (eg, streptozodozin) or virus infection. Encephalomyocarditis virus is diabetogeneic in mice; the incidence of disease is dependent on both virus and mouse strains used.
144
,
268
,
269
,
278
,
279
,
280
,
281
,
282
,
283
Similarly, Coxsackie virus, associated with diabetes development in humans, causes extensive pancreatic tissue damage and release of sequestered autoantigens that lead to rapid diabetes development in some mouse strains.
284
Models of Spontaneous Diabetes Onset
. There are several animal models of spontaneous T1D.
285
The two most extensively used are the biobreeding rat, introduced in 1974 at the Bio Breeding Laboratories in Canada, and the NOD mouse strain established 1974 in Osaka, Japan.
285
Because the biobreeding rat is associated with leukopenia and other abnormalities,
285
the NOD mouse has been the model of choice due to its genetic linkages that are reminiscent of human T1D.
285
In both models, adoptive transfer of T cells can induce disease.
286
Interestingly, viral infections, first shown with LCMV, can prevent insulindependent diabetes mellitus in both biobreeding rats and NOD mice.
287
,
288
Premium Wordpress Themes by UFO Themes
WordPress theme by UFO themes