Chapter 19
Disorders of Mitochondrial Energy Metabolism, Lipid Metabolism and Other Disorders

Marjorie Dixon, Jacky Stafford, Fiona White, Nicol Clayton and Janine Gallagher
An Introduction to Inherited Metabolic Disorders may be found at the beginning of Chapter 17.
Mitochondrial fatty acid β-oxidation is the primary breakdown pathway of fatty acids to generate energy. Fatty acids are a major fuel source for most tissues of the body, especially during fasting, when glucose supply is limited. They are the principal energy source for cardiac muscle and skeletal muscle in the resting state and during prolonged exercise. Fatty acid oxidation is also important for the production of ketone bodies; these are another important fuel which can be used by all tissues and particularly by the brain during prolonged fasting as it cannot use fatty acids to generate energy.
Fatty acids consist of a hydrocarbon chain with a carboxylic acid group at one end. Most naturally occurring fatty acids have a chain length of 16–18 carbon atoms and are referred to as long chain fatty acids. Fatty acids are stored in adipose tissue as triglycerides, in which the carboxylic acid groups of three fatty acids are esterified to glycerol. Fat metabolism begins in adipose tissue as a response to falling levels of blood glucose. Insulin activates hormone-sensitive lipase which promotes the release of free fatty acids from triglycerides into the blood stream. The fatty acids are then transported to the tissues bound to albumin. In tissues where they are used, fatty acids enter the mitochondria bound to carnitine. This pathway is called the carnitine cycle or shuttle.
Carnitine cycle/shuttle
The carnitine cycle involves three enzymes which transport long chain fatty acids into the mitochondria. The first step occurs at the outer mitochondrial membrane where long chain fatty acids are activated to a coenzyme A ester, then to an acylcarnitine by the action of carnitine palmitoyl transferase I (CPTI); next it is transported by carnitine acylcarnitine translocase (CACT) into the mitochondria where it is converted back to an acyl-CoA ester by carnitine palmitoyl transferase II (CPTII), ready to undergo mitochondrial β-oxidation (Fig. 19.1). Carnitine is required in this process; it is transported inside the cells by an organic cation transporter (OCTN2) present in the heart, muscle and kidney. CPTI is the regulatory step for fatty acid oxidation. Malonyl CoA is involved in the regulation of CPTI, so indirectly controls fatty acid oxidation [1]. Circulating levels of malonyl CoA are high during the fed state and inhibit CPTI; conversely in the fasting state they fall and activate CPTI.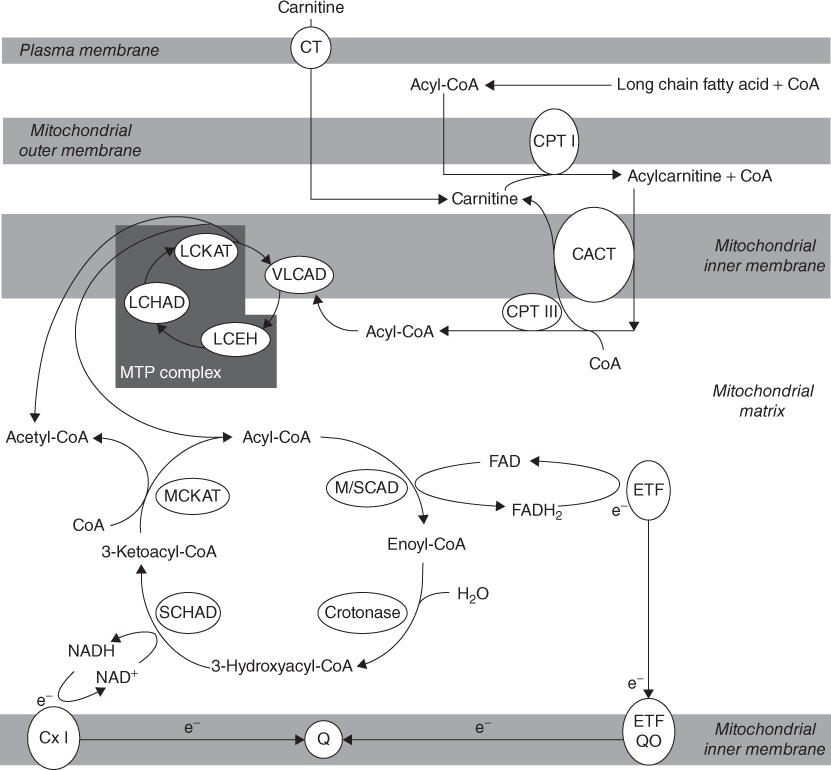 Mitochondrial β-oxidation
Within mitochondria, fatty acids are broken down by the spiral pathway of β-oxidation (Fig. 19.1). Every turn of the spiral involves four steps, catalysed by several enzymes of different chain length specificities. The first step, for example, is catalysed by very long chain, medium chain and short chain acyl-CoA dehydrogenases (VLCAD, MCAD, SCAD). The third step in the β-oxidation spiral is another dehydrogenation reaction and is catalysed by long and short chain 3-hydroxyacyl-CoA dehydrogenases (LCHAD, SCHAD). Both of these dehydrogenation reactions release energy which can be harnessed for use by the cell. This is achieved by passing electrons to the mitochondrial respiratory chain, either directly or via electron transfer flavoprotein (ETF) and ETF ubiquinone oxidoreductase (ETFQO). In addition to producing energy, each turn of the β-oxidation spiral releases a molecule of acetyl-CoA and shortens the fatty acid by two carbon atoms. Acetyl-CoA can be metabolised in the tricarboxylic acid cycle, but in the liver it is converted to ketone bodies via 3-hydroxy-3-methylglutaryl-CoA (HMG-CoA) synthase and lyase. A more detailed description of the biochemical basis of mitochondrial fatty acid oxidation is described elsewhere [2, 3].
A number of disorders of the mitochondrial fatty acid oxidation pathway have now been described. These vary in severity and may present at any time from the neonatal period to adulthood [2, 3]. The clinical features associated with fatty acid oxidation disorders (FAOD) probably result from the failure of the production of energy and accumulation of toxic intermediates [4]. The commonest disorder is medium chain acyl-CoA dehydrogenase deficiency (MCADD). Typically, this presents in early childhood with hypoglycaemia and acute encephalopathy brought on by fasting or an acute infection. The fatty acid oxidation defect impairs the production of ketone bodies and the hypoglycaemia is therefore 'hypoketotic'. Most other defects affect long chain fatty acid oxidation, either because they involve long chain specific β-oxidation enzymes, e.g. very long chain acyl-CoA dehydrogenase deficiency, or because they affect the carnitine mediated entry of long chain fatty acids into mitochondria, e.g. carnitine palmitoyl transferase deficiency type I. Defects of ETF and ETFQO cause multiple acyl-CoA dehydrogenase deficiency (MADD); in this condition there is impaired oxidation of long chain, medium chain and short chain fatty acids and various other substrates. Patients with long chain fatty acid oxidation defects may present with hypoglycaemia and encephalopathy, as in MCADD. They may often have additional problems such as cardiomyopathy, weakness or episodes of muscle breakdown (rhabdomyolysis).
The synthesis of ketone bodies occurs via the intermediate HMG-CoA and depends primarily on the enzymes HMG-CoA synthase and HMG-CoA lyase. Deficiencies of these enzymes are known as the disorders of ketogenesis and present with 'hypoketotic' hypoglycaemia. There are also defects in the utilisation of ketone bodies; the enzymes involved are succinyl-CoA 3-oxoacid-CoA transferase (SCOT) and 2-methylacetoacetyl-CoA thiolase (MAT). Deficiencies of these enzymes are known as the disorders of ketolysis or ketone body utilisation defects. They present primarily with a severe ketoacidosis.
Disorders of fatty acid oxidation and ketone bodies are treated primarily by diet. Some aspects of management are universal but others vary with the underlying disorder, age at onset and severity. The main aim is to minimise the oxidation of fatty acids by using an emergency regimen during illness and avoiding fasting. Additionally in severe defects of long chain fatty acid oxidation the intake of dietary fat is limited and medium chain fats may be used.
MCADD is the commonest of the fatty acid oxidation defects, with an incidence of 1 in 10 000 to 27 000 in babies of Northern European descent. MCADD is due to a deficiency of the enzyme medium chain acyl-CoA dehydrogenase which is necessary for the oxidation of medium chain fatty acids (carbon chain length C6–C12). Ketone body and energy production is reduced and there is accumulation of medium chain fatty acids, specifically octanoyl carnitine (C8), which are considered to be responsible for the clinical sequelae. Clinically, MCADD usually presents between 6 months and 4 years of age but neonatal and adult onset can also occur. Some patients remain asymptomatic throughout life. The typical picture is of encephalopathy with 'hypoketotic' hypoglycaemia, precipitated by metabolic stress such as fasting, gastrointestinal illness or respiratory infections [5–7]. Alcohol intoxication is another precipitating cause seen in adult patients [8]. Without prompt treatment there is a high morbidity and mortality; some patients die suddenly, probably due to cardiac arrhythmias [5–7]. Between episodes patients are usually completely well because, under basal conditions, oxidation of medium chain fatty acids is near normal [9]. Once diagnosed the outlook is much improved [10].
Genetics
MCADD is inherited as an autosomal recessive disorder, so a baby has a 1 in 4 chance of inheriting the disorder from its parents. Due to a founder effect the c.985A>G mutation is common in Northern Europeans and is associated with classical clinical disease. Screening has resulted in the identification of further mutations, some of which have never been reported in clinically presenting patients [11]. Currently, in the UK all babies are treated irrespective of mutation.
Expanded newborn screening for MCADD
MCADD is part of the existing blood spot newborn screening programme in the UK (since 2009 for England, all of the UK since 2012). In England newborn screening identifies about 60 babies per year, with a prevalence of about 1 in 10 000 [12]. For this a heel prick blood sample is collected between 5 and 8 days of age on the standard newborn screening collection cards. MCADD screening uses the quantitative assay of C8 and decanoylcarnitine (C10). More details on screening, diagnostic and clinical management protocols in the UK can be found at www.newbornbloodspot.screening.nhs.uk/mcadd and www.bimdg.org.
Dietary management
At risk neonate with a family history of MCADD
Neonatal deaths have been reported in MCADD in breast and formula fed babies [13, 14]. Newborns are at greatest risk during the first 72 hours of life, especially if they are being breast fed (see below). Therefore it is essential that at risk infants who have a family history of MCADD receive adequate feeds during the first few days of life. The 2012 UK guidelines for managing at risk babies for MCADD can be accessed from the above websites and are as follows:


any at risk babies should be screened at 24–48 hours and results made available, promptly

the baby should be fed regularly, a term baby at least 4 hourly and preterm 3 hourly day and night until a diagnosis of MCADD is confirmed or excluded

breast fed babies are at particular risk because the energy content of breast milk is low for the first few days and only small volumes of breast milk are available and initially consumed; top-ups of formula milk are therefore recommended

a volume of 60 mL/kg/day of standard infant formula is advised for the first three complete days (72 hours); ideally this should be divided evenly between 6 to 8 feeds and given after the breast feed

if there are concerns about the baby or they are taking inadequate volumes of feeds they should be transferred to the neonatal unit and fed by nasogastric tube or given an intravenous infusion containing 10% glucose
Dietary management overview
Normal diets contain predominantly fatty acids with a chain length of C16 and C18. These long chain fatty acids undergo β-oxidation to release energy and the carbon chain length is progressively shortened to a medium, then short chain length. Under basal conditions, the oxidation of medium chain fatty acids has been reported to be near normal in patients with MCADD due to overlapping enzyme substrate specificity [9]. This only becomes a problem when there is an increased demand for fatty acids to provide energy such as during fasting or illness. The well child can therefore have a normal diet without restriction of long chain fat. It is important, however, to avoid prolonged fasts as fatty acid oxidation rates increase with fasting. In infants, fatty acid oxidation rates rise after a shorter duration of fasting and frequent feeding is therefore recommended. There are few published data on the safe duration of fasting in MCADD. Derks et al. have suggested treatment guidelines based on data from the literature and Dutch MCADD patients, but they note the paucity of data in the first 6 months of life [15]. Compared with the UK guidelines (Table 19.1) the fasting times are more restricted in younger children. Illness in any child is usually associated with loss of appetite and prolonged fasting; fatty acid oxidation rates increase to provide essential energy sources. In MCADD this process is limited and the child is at risk of encephalopathy. To prevent encephalopathy an emergency regimen (ER) of frequent feeding of high carbohydrate (CHO) drinks/feeds needs to be given. This will provide energy, stimulate insulin secretion and thereby minimise lipolysis and fatty acid oxidation.
Table 19.1 Medium chain acyl-CoA dehydrogenase (MCAD) deficiency: guidelines for 'maximum safe fasting times' for the well child
| | |
| --- | --- |
| Age | Time in hours |
| *Positive screening result to 4 months of age | 6 |
| From 4 months | 8 |
| From 8 months | 10 |
| From 12 months onwards | 12 |
* Around 2 weeks of age.
Source: www.bimdg.org.
Children with MCADD need to avoid medium chain triglycerides (MCT). Medium chain fatty acids can enter mitochondria without being bound to carnitine, so bypassing the step at which fatty acid oxidation is normally regulated (CPTI). MCT ingestion could therefore lead to a more severe metabolic disturbance than with long chain fats.
Dietary guidelines and information leaflets (e.g. MCADD is Suspected, MCADD and Your Child) for screened patients have been developed and can be accessed from www.bimdg.org.uk and www.newbornbloodspot.screening.nhs.uk. There are dietary information sheets for use at specified ages, from a positive screening result throughout childhood; they can also be used for clinically presenting patients. Information on suggested safe fasting times and ER for management of illness is included. Another useful educational tool is an e-learning resource on MCADD which is specifically designed for dietitians and midwives, accessed from www.geneticseducation.nhs.uk.
Dietary management during illness
If a child with MCADD is unwell (particularly if there is fever, vomiting and/or diarrhoea) and has a reduced appetite they should be given the standard ER of at least 3 hourly drinks containing glucose polymer, day and night (p. 502) . The ER needs to be implemented at an early stage to prevent metabolic decompensation and risk of sudden death. Fat is usually excluded during the acute period, although there is little evidence to support if this is essential. As the child improves, the normal diet can be resumed but extra ER drinks should be given, particularly during the night, until the child is fully recovered and eating well. If the ER is refused or vomited the child should have rapid access to their local paediatric services, avoiding a wait in the accident and emergency department, so there is no delay in starting an intravenous (IV) infusion containing glucose; 10% glucose, 0.45% saline is generally suitable but electrolytes should be monitored. Management decisions should be based on the child's clinical state. Monitoring of blood glucose at home is not recommended because precision is poor at low concentrations and hypoglycaemia is a relatively late finding during illness in MCADD [16]. If for any reason the child needs to be commenced on a special infant formula or paediatric enteral feed during illness, it should not contain added MCT (see below). Emergency regimen guidelines (IV and oral) for hospital use can be accessed from www.bimdg.org.uk Although newborn screening has markedly improved the outcome for children with MCADD [17], there is still a risk of sudden death, specifically associated with vomiting [18]. The child who is vomiting should therefore be managed with extra vigilance.
Dietary management of well infants
With the introduction of newborn screening for MCADD in the UK it was important to set 'maximum safe fasting times' (Table 19.1). These were based mainly on feeding practices used in screened populations elsewhere in the world that had proven successful in avoiding symptomatic episodes. A review of these guidelines are planned
Infants can be breast or bottle fed with a normal infant formula and weaned onto a normal diet without restriction of long chain triglycerides (LCT), but it is important they are fed at regular intervals day and night. Small amounts of MCT are present in the vegetable oils of normal infant formulas, but the quantities are not sufficient to cause a problem. However, MCT are added to some special infant formulas and energy supplements and these should not be given. It is important to check the current composition of all such products for added MCT. Examples include hydrolysed infant formulas Pregestimil Lipil, MCT Pepdite, Pepti-Junior; high MCT special infant formulas Monogen, Lipistart; high MCT energy supplements MCT Duocal, MCT Procal. Low birthweight infant formulas should also be checked for added MCT.
The following dietary guidelines should be followed when treating an infant with MCADD:
Infants (under 1 year of age)


breast feeding or normal infant formula is suitable

avoidance of long fasts (Table 19.1)

demand feeding every 3–4 hours throughout the day

night feeds according to guidelines for 'maximum safe fasting times' (Table 19.1)

weaning is commenced at the normal time around 6 months (26 weeks) of age

weaning onto a normal diet and encouragement of regular starchy foods as weaning progresses

restriction of LCT is not necessary

avoidance of special infant formulas which contain added MCT
Note that newborn infants at risk for MCADD because of family history must receive adequate feeds (as described above).
Dietary management of well children
Children with MCADD should be encouraged to adopt a 'healthy lifestyle' through diet and exercise. Some parents worry their child may not be eating enough but they need to be reassured that not always finishing a meal can be normal; if necessary a snack can be offered later. There may be a risk of overweight or obesity due to parental anxiety surrounding feeding [19, 20]. Children with MCADD should be encouraged to exercise as normal. The need for provision of additional CHO pre-exercise should be individually monitored as muscle pain and/or reduced exercise tolerance has been reported in some patients [19]. All children, including those with MCADD, can feel hungry after exercise and a CHO snack should be given to help replenish glycogen stores.
From 1 year of age children can fast for 12 hours at night. In the author's centre a minority of patients are not able to fast all night as they develop early morning symptoms; these symptoms have been resolved by being given either a night feed or uncooked cornstarch before bed as it is slowly digested to release glucose.
It is not necessary to restrict dietary fat. MCT, C8 and C10, occur in only a few foods and in small amounts, e.g. in butter, cow's milk, and these can be included in the diet. Coconut is the only exception where 5% of the fatty acids have a chain length of C8 or C10; for coconut oil, the figure is 13%. Precautions should be taken in countries, such as the Philippines, where coconut oil is used as the main cooking oil. Pure coconut and coconut oil may be best avoided as the effect of large amounts of these in children with MCADD is not known. Theoretically there is risk of accumulation of toxic medium chain fats. Coconut products such as coconut milk and coconut paste may be suitable (provided the C8 and C10 content is low) and small amounts of coconut as an ingredient in food are acceptable in healthy children with MCADD. MCT are added to some special paediatric feeds and energy supplements and these should not be given. It is important to check the current composition of all such products for added MCT. Examples include hydrolysed paediatric feeds Peptamen Junior, Paediasure Pepdite; paediatric enteral feeds Paediasure, Frebini Energy; high MCT energy supplements MCT Duocal, MCT Procal.
The following dietary guidelines should be followed when treating a child with MCADD:
Children (from 1 year of age)


regular meals (three main meals daily, including breakfast which must not be missed)

a bedtime snack containing starchy foods such as bread, crumpets, muffins, rice cakes, crackers, biscuits, pitta bread, chapatti or cereals

missed meals can be replaced with a starchy snack if necessary

avoidance of special dietetic products which contain added MCT

a maximum fasting interval of 12 hours overnight (Table 19.1)

encouragement of a 'healthy lifestyle' and maintenance of normal body mass index

restriction of LCT is not necessary.
Alcohol
Adolescents (and adults) need to know that an excessive alcohol intake is hazardous. Alcohol intoxication with resultant vomiting has been a cause of presentation in adults [8]. Vomiting and loss of appetite associated with excessive alcohol intake can be particularly dangerous. Alcohol inhibits gluconeogenesis so both fatty acid oxidation and gluconeogenesis which provide fuel during fasting are impaired. Moreover, the symptoms of hypoglycaemia might be attributed to inebriation rather than MCADD. Teenagers and adults need to be educated about the risks associated with excessive alcohol intake. A sensible approach is to advise that alcohol intake is limited and must always be taken in combination with food.
Carnitine
Plasma carnitine concentrations are often below the normal range in patients with MCADD, particularly after illness. The consequences of this are not clear. Carnitine supplements are given by some but this is not universal [21]. Maintenance of free carnitine levels (albeit at the lower end of normal range) has been reported in 46 patients from one centre not receiving carnitine supplementation; no patient experienced significant episodes of rhabdomyolysis or decompensation [22]. In the author's centre, a trial of carnitine is given to a minority of children who complain of muscle symptoms and also have low plasma carnitine levels. There is conflicting evidence concerning the beneficial effect of carnitine on exercise tolerance [23, 24].
The long chain fatty acid oxidation disorders include:


Defects of the carnitine cycle. Carnitine palmitoyl transferases I and II (CPTI and CPTII), carnitine acylcarnitine translocase (CACT) deficiencies and defects of the transporter for uptake of carnitine across the cell membrane (OCTN2 or CT) (Fig. 19.1).

Defects of β-oxidation. Very long chain acyl-CoA dehydrogenase deficiency (VLCADD), mitochondrial trifunctional protein deficiency (MTPD) which encompasses the three MTP enzymes LCHAD deficiency (LCHADD), due to an isolated deficiency of LCHAD enzyme within the MTP complex (Fig. 19.1).
For a description of the biochemical pathway of long chain fatty acid oxidation refer to Introduction to Inherited Metabolic Disorders (p. 383), page 589 and Fig. 19.1.
Full access? Get Clinical Tree